This post was written by Ellie Neifeld, 2019 Mono Lake Intern.
Join us for the four remaining lectures in this summer's Refreshments with Refreshing 'Ologists series, featuring scientists presenting their work in the region.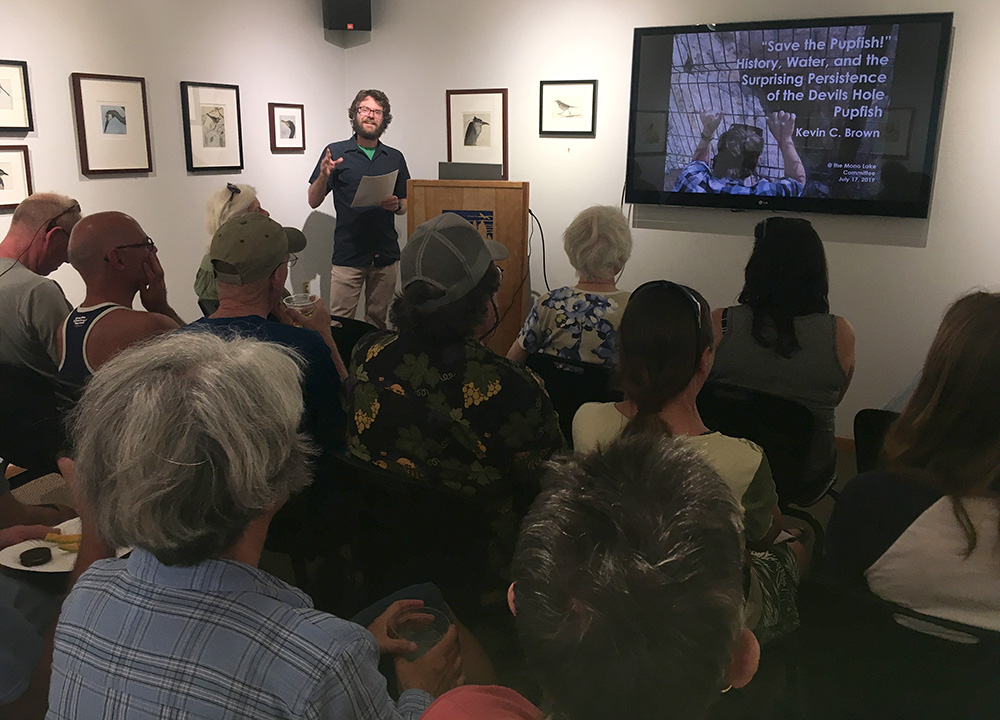 Lectures happen at 4:00pm in the Mono Lake Committee Information Center & Bookstore gallery. Presentations last about one hour and include light refreshments. If you can join us for these free events, please register here!
Join us for these scheduled talks:
August 21: "From Mono Lake to Mar Chiquita: How Are the Phalaropes Faring the 21st Century?" with conservation scientist Ryan Carle. Phalaropes are tiny shorebirds that make impressive migrations between North and South America. Mono and other saline lakes—which are nearly universally threatened by climate change and water diversions—are critical migratory refueling stops for them. Mono is famous for its phalaropes, but there has been virtually no research on their population trends or status here (or anywhere else) for the last 30 years. Ryan will discuss what we know and don't know about phalaropes, the status of their habitat in South America, new research occurring at Mono Lake this year, and the recent formation of an international group focused on phalarope conservation and research.
August 28: "Assessing climate vulnerability in the highest-elevation breeding birds on the continent: North America's Rosy-finches" with UC Santa Cruz PhD candidate Tim Brown. Mountaintop animals are among the most vulnerable species to climate change. If warming forces them upwards, they face an "escalator to extinction" as they reach the upper elevational limits of available habitat. Understanding mechanisms that both limit these extreme environment specialists and control their responses to variation and change is fundamental to anticipating species conservation threats and priorities. Mobile, generalist-diet mountaintop animals can also serve as focal surrogates for alpine communities, their responses to directional change, and intervention needs. Rosy-finches (Leucosticte) include the highest-elevation breeding songbirds in North America and some of the highest in Asia. While some Rosy-finches could move uphill, such as the Alaskan endemics, others already breed at the highest available elevations. Tim will focus on the Sierra Nevada Rosy-finch (Leucosticte tephrocotis dawsoni) to answer two critical questions: what limits its breeding distribution to extreme elevations, and how does understanding these limits inform its conservation under climate change?
September 4: "From Chemistry to Community: Sage-Grouse Conservation Across the Sagebrush Sea" with UC Davis PhD candidate Eric Tymstra. Greater Sage-Grouse populations have declined approximately 95% across their range, largely due to habitat loss and degradation. Eric will discuss his findings on how habitat quality may influence their reproductive success on the lek (breeding and display areas) and how as diet selection varies across the range, it will allow us to identify habitats and populations that may be in danger.
September 10: "Water From Rock: Rock Glaciers as Un(der)-Explored Hydrologic Resevoirs and Climate Refugia" with US Forest Service Senior Scientist Connie Millar. Despite their ubiquity, rock glaciers are little-recognized landforms of the high Sierra Nevada and other Great Basin mountains. Long studied globally by glacial specialists, their unique properties as enduring sources of cold-water springs and lakes, and their related roles in providing habitat for cold-adapted plants and animals (such as American pikas), are only recently being understood by conservation scientists. Rock glaciers and related landforms (e.g., talus slopes) serve as long-term alpine water sources and ecological refugia as global climates change and temperatures rise. In this talk Connie will describe her studies on rock glaciers of the Great Basin mountain ranges, highlighting their surprising physical processes and explaining how they can serve critical roles in climate adaptation.
Finished talks:
July 10: "A New Detection of the Sierra Nevada Red Fox" with California Department of Fish & Wildlife researcher Brian Hatfield.
July 17: "Save the Pupfish!: History, Water, and the Surprising Persistence of the Devils Hole Pupfish" with environmental historian Kevin Brown, PhD.
July 24: "The Science of Storytelling" with author

Kristine

Zeigler

.
July 31: "Conserving Giant Sequoia and Coast Redwood in a Time of Global Change" with Kristen Shive, Director of Science for Save the Redwoods League.
August 7: "Extent of the Last Glacial Maximum (Tioga) Glaciation in Yosemite and the Mono Basin" with Yosemite National Park Geologist Greg Stock.
August 14: "Dry Snow/Wet Snow Recipes for Unusual Avalanches: Avalanche Forecasting Challenges in a Changing Climate" with snow scientist and avalanche forecaster Sue Burak.
Lectures will be listed as they are scheduled, so be sure to check back to reserve your seat for upcoming talks. We hope to see you there!