California just logged its warmest winter in history by the widest margin in history. December 2014 through February 2015 hosted average temperatures soaring 5.9°F above the long-term mean. This record increase topped the previous record gain by 1.5°F.
The state's last record warm winter was … all the way back in 2014. Before this year, December 2013–February 2014 was the warmest winter in California history by 4.4°F above average (a 0.8°F increase over the previous record, which was, until this year, the highest record increase).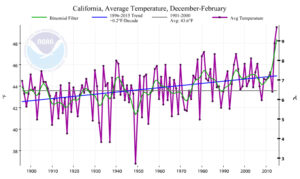 What about Lee Vining? We are still compiling the data, but it's probable that Lee Vining tracked with the rest of the state. In February 2015 alone, 26 of 28 days brought well-above average temperatures to the town, typically reaching 6–24 degrees above average. For several consecutive days in February temperatures hovered at 67°F (a record high for February). Such extreme winter warmth rapidly melts snowpack while accelerating soil moisture loss in snowless terrain.
And what about the Sierra Nevada snowpack? Statewide it's currently the lowest in history, sitting at 17% of average for April 1.