It's Sunday afternoon at the Mono Lake Committee office here in Lee Vining and I just got back from a mission to photograph what looks like it could be another airborne particulate matter (dust storm) record-breaker of a day. While out photo-documenting at various promontories around the basin it occurred to me that monophiles might actually be curious about what the strong wind gusts we experience in the Mono Basin are like.
The Great Basin Unified Air Pollution Control District measures dust storms at Mono Lake, and their monitoring stations have the most accurate data. But here's more of a personal account of what it's like.
When Geoff calls to say that you can't see Paoha Island from the stretch of Hwy 395 along the lake, I grab the camera and head out into the wind. When I get to a good viewpoint I set the camera to the sports/action photography setting–dust is generally blurry, but everything becomes blurry when you can't hold your body still to take a photo. Then I brace myself for the moment I open the car door, jump out into the wind with my finger poised above the shutter button, lean into the wind with one foot in front and one behind in case the wind gusts stop suddenly, and take as many shots as I can stand before diving back into the car and cleaning the dust from my teeth and the corners of my eyes.
So far, today's high gust over the Warren Bench was 95. Though I don't know the actual wind speed at any of the locations in the precise moments I was photographing, and I don't know the actual speed of any of the winds out there on the lake, this: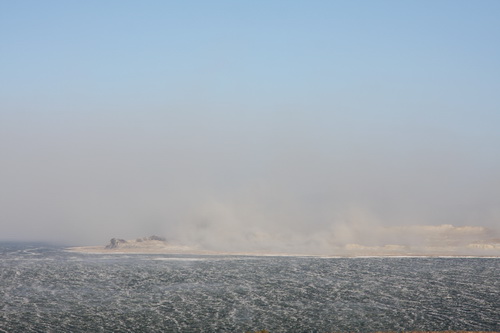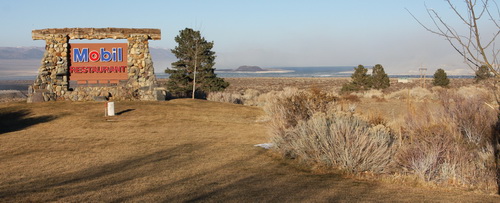 … is what it looked like out on Mono this afternoon.
So far in town today we've heard of a blown out windshield in a parked car, a dumpster that took flight and rolled down the street into another car, and a stop sign that got taken out next to the office–and those are just the things that the four of us who are literally holding down the fort today, have seen and heard in town.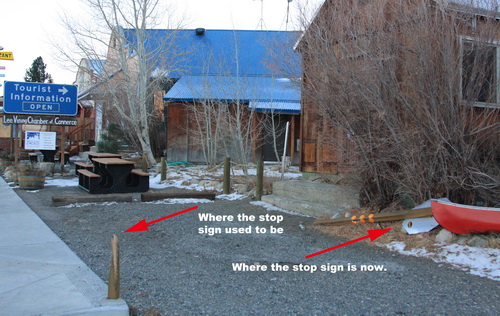 And what does all of this mean for Mono Lake? This, you can be sure, we are working on right now.
Mono Basin air quality resources:
Why dust matters to human health.
Mono Lake Newsletter article on measuring Mono's dust.
Mono Basin atmospheric reports on the Mono Basin Clearinghouse.
Check out wind data at various local weather stations.