The Mono Lake Committee is excited to announce our ninth annual Wild & Scenic Film Festival in Los Angeles! We will be featuring a series of short, inspiring, and engaging films that showcase amazing people, beautiful places, and unique perspectives.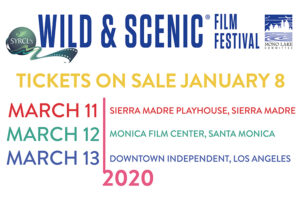 This year, for the first time, we'll be hosting the festival on three consecutive nights in the Los Angeles area:
Sierra Madre at the Sierra Madre Playhouse
March 11, 2020
7:00–9:30pm
Santa Monica at the Laemmle Monica Film Center
March 12, 2020
7:00–9:30pm
Downtown Los Angeles at the Downtown Independent
March 13, 2020
7:00–9:30pm
Tickets will be available starting January 8 here. All proceeds benefit the Mono Basin Outdoor Education Center, where urban youth connect to the source of their water through outdoor activities and environmental stewardship. Spread the word and we'll see you in March!