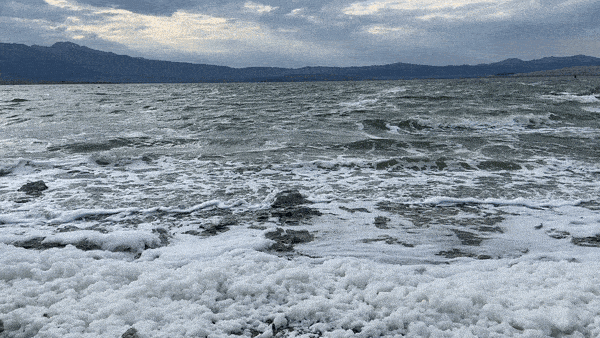 Wind, waves, and foam
Have you ever visited Mono Lake on a windy evening and witnessed waves breaking on the shore? In early August, I took a walk at South Tufa during a particularly windy evening and felt almost transported to the Pacific Ocean as I watched the rhythm of wave after wave, enjoying the soothing sound as they crashed ashore and the occasional "sea" spray. The shore, however, was blanketed by thick foam, an uncommon sight on the coast.
What explains Mono Lake's foamy water?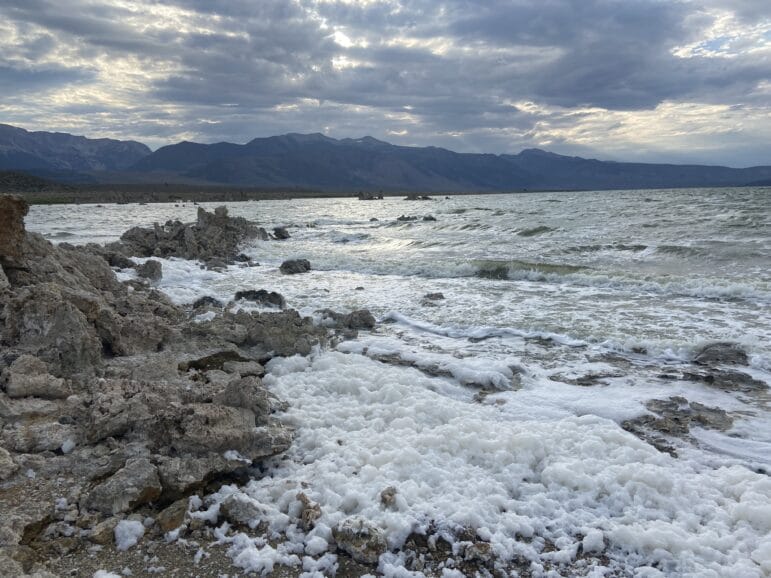 Mono Lake's unusual water chemistry explains this foam phenomenon. Mono Lake is a "triple water" lake, containing high amounts of chlorides, carbonates, and sulfates, which are all found in soap. Carbonates and sulfates, in particular, are surfactants, which will bubble up when mixed, which happens frequently at Mono Lake on windy days. If you put your hand in Mono Lake, even on a calm day, you can observe that the water feels slippery or soapy between your fingers. This is also due to the high concentration of carbonates in Mono Lake which makes the lake alkaline with a pH of 9.8, similar to household glass cleaner.
Mono Lake's soapy properties have been written about since the mid-19th century, including by writer Mark Twain and USGS botanist William Brewer, who both did laundry in Mono Lake.
Check out foam at Mono Lake throughout the seasons and share your story
I'm amazed every time I see foam at Mono Lake. It's remarkable to watch it form as waves crash ashore, but it's often just as spectacular to see the following day after the wind has calmed and islands of foam float on the lake surface, often looking like fresh snow, before dissolving back into the water. In this post I've chosen to highlight a few photos from my walk in early August and I've also found some additional photos to share of unique foam sightings at Mono Lake from the Mono Lake Committee photo archive.
Have you ever seen this phenomenon at Mono Lake? Log in to share your stories in the comments below.