This post was written by Julia Runcie, 2011 Mono Lake Intern.
Dangerously high winds on Monday night tore off the "floor" of Lee Vining's historic Upside-Down House and sent it crashing into the side of the Mono Basin Historical Society's Old Schoolhouse Museum.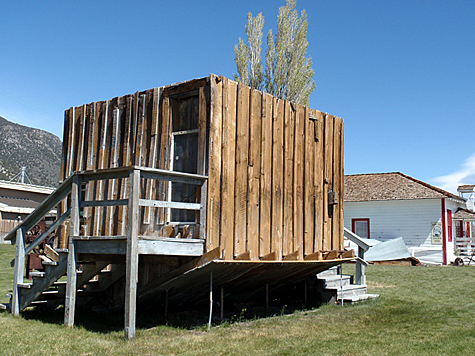 The Upside-Down House was built in 1956 by silent film star and long-time Mono Basin resident Nellie Bly O'Bryan. It's just what it sounds like: a one-room cabin, turned upside-down—even the stove, bed, and pet cat hang from the "ceiling." The house is a popular tourist attraction and one of the Old Schoolhouse Museum's most singular exhibits.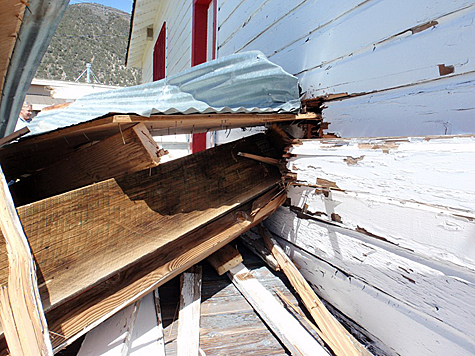 Thanks to the diligence of many Lee Vining residents, the museum's wall has been temporarily patched and the museum will be open as normal from 10:00am to 4:00pm Monday and Thursday through Saturday, and 12:00pm to 4:00pm on Sunday (closed Tues-Wed). Plans for the repair of the Upside-Down House will be discussed at the next meeting of the Mono Basin Historical Society on Monday, June 6 at 6:30pm at the Lee Vining Community Center.