When my husband and I were planning our courthouse wedding five years ago, we asked Judge Stan Eller to officiate. Judge Eller retired last year from a long, storied career that included preventing DWP from shutting off Rush Creek after a big flood returned water to it in the mid-1980s for the first time in decades (see page 11). I wanted to feel connected to Mono Lake on that very important day for us, and as Judge Eller pronounced us married, I did.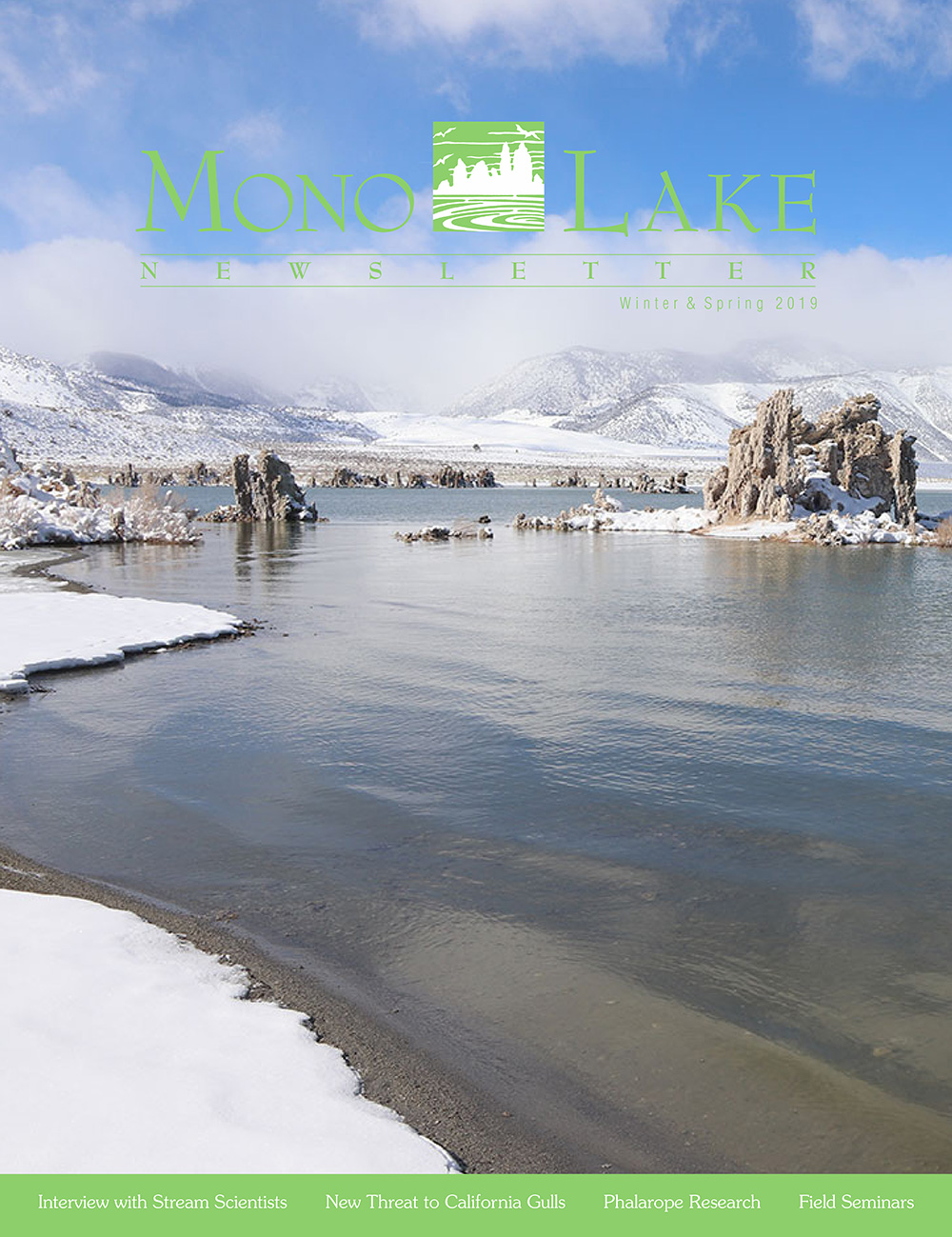 So many people feel connected to Mono Lake, and never more than during exciting periods of weather. This February has brought more days with snow than without, and we hear from people on Facebook and Instagram every day—guessing at how much snow we got, asking about the snowpack, wondering if Mono Lake will rise this year…
We talk with members who call to sign up for Field Seminars and arrange custom guided trips with Nora, both excellent ways to deepen your connection to the Mono Basin (pages 18–23). We open mail containing donations in honor and in memory of loved ones, that keep your beloved people connected to this place (page 27).
In winter, Rose and Santiago migrate to Los Angeles to visit former and prospective Outdoor Education Center participants in their home communities. It's important to keep up the connection between Southern California and the Mono Basin that is embodied by the OEC students, especially in the "off season" (page 13).
In this issue Lisa brings us a very detailed, scientific kind of connection to the Mono Basin in her interview with Dr. Bill Trush and Ross Taylor, State Water Board-appointed Stream Scientists for over 20 years (page 4).
We're here to keep you connected to Mono Lake, online and in person, through the phone lines and the Postal Service, and in the pages of the Mono Lake Newsletter too. So wade on into this issue—the water's fine.
Top photo by Andrew Youssef.