As I write this note it feels like spring is on its way. The sun's a little warmer and the birds a little more vocal. It feels like we're turning a corner in this pandemic too. And there's good news about Mono Basin stream restoration.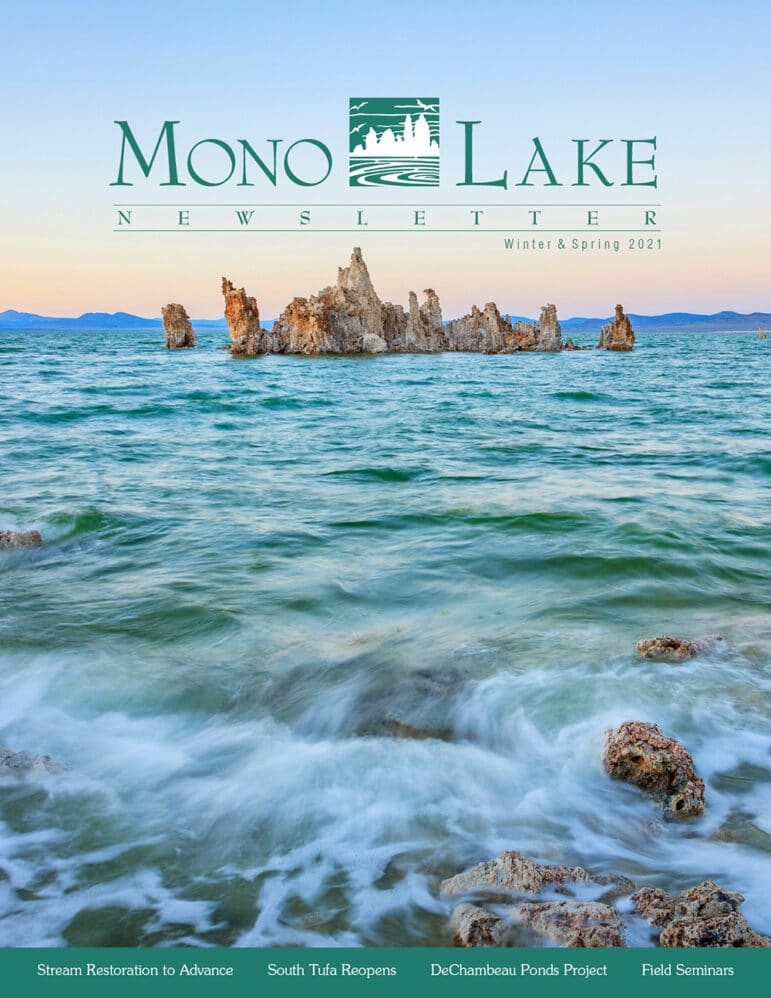 All we have to do is wait for spring. But unlike the changing season, almost everything else—certainly everything in this issue of the Newsletter—happens because of human efforts. Sometimes those efforts are monumental; more often they're incremental and together, they add up.
That's certainly the case with stream restoration. We have made incremental efforts for years against DWP's deliberate delay tactics. Persistent phone calls, letters, and meetings are finally leading up to a monumental change—amended water export licenses for DWP that will benefit Mono Lake's tributary streams.
Insisting that the controversial Tioga Inn development become a better project is an exercise in incremental efforts: read the lengthy documents, show up to each meeting, comment every time. On the Tioga Inn issue we're proud to be working with the Mono Lake Kutzadika'a Tribe, who undertake the monumental effort to preserve their Tribal heritage every day.
In a parallel story, at a sister terminus lake, our friends at Walker Lake know years-long incremental efforts well. Their efforts have just won a monumental court victory.
Our planning for this summer is incremental: hire a few interns, develop COVID-19 guidelines for in-person programs, activate Mono Lake Volunteers. We hope it will add up to a monumental effort over the summer to ensure that visitors protect the Mono Basin while enjoying and learning about it.
We'll wait for spring and bask in sunshine and birdsong. And we'll keep up the incremental efforts—stay on trail at South Tufa, wear masks, wash hands—to reach the monumental goals of protecting ourselves and Mono Lake.
Top photo courtesy of David J. Gubernick.