This post was written by Melissa Boyd, 2014 & 2015 Outdoor Education Instructor.
What do you think of when you hear the words "outdoor education?"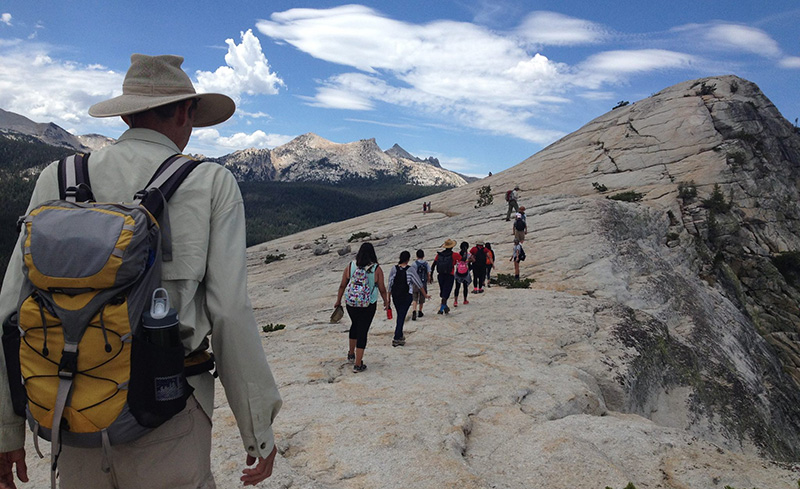 When I first heard these words some statements that popped into my head were, "It's teaching kids outside about nature" and "It's hiking with youth in beautiful and scenic places." Since working for the Mono Lake Committee as an Outdoor Education Intern I have come to learn that outdoor education does involve teaching youth about the environment while also spending time in nature, but it is so much more than that as well. Being an Outdoor Education Center (OEC) instructor is a difficult but rewarding job that has taught me a great deal about how important it is to be yourself, be enthusiastic about what you're teaching, and what it really means to "work your butt off."
Be yourself.
That's a statement that I am sure we have all heard since childhood. Of course, as we exit our teenage years and enter adulthood we become more comfortable with being ourselves and we finally figure out that it's pretty exhausting being anything else. But there are still times in life as adults that we don't feel fully comfortable in a situation, and we don't really know how to act.
I definitely felt this way when I was bombarded by a group of 15 teenagers at the OEC on the first night of their five-day trip at Mono Lake, and my first day on the job. "What do I say to them?" I thought to myself as I watched the group pull up in front of the OEC. "Should I shake their hands?" My fellow co-worker and seasoned OEC instructor Elina and I had spent the afternoon getting ready for the group, and now they were finally here. I inched outside behind Elina to greet the group. She immediately welcomed the students and adult leaders to the OEC and gave them instructions on where to put their food and group gear. As the group got to work on getting their gear organized I wandered about, still trying to figure out what to say to them. "How was your trip?" I finally asked a gal with cat-eye sunglasses and stylish jean shorts. "Long, and hot," she replied shortly and walked inside with her bag. "That wasn't too bad,' I muttered to myself. I spent the next 15 minutes awkwardly asking the kids their names and how their trip was until they were organized and ready for the opening gathering.
The next four days I spent with the kids were educational and exhausting. We took the kids hiking, taught them about Mono Lake and the Mono Basin's ecology and history, did group building activities, and provided not only knowledge but friendship and support to the students. I am not afraid to admit that working with my first group was nerve-racking. In many situations I did not know how to act as the instructor but I quickly figured out that it is tiring to put on an act rather than be yourself. Since then I have become a lot more comfortable with my job, and by "being myself" I have been able to really enjoy working at the OEC.
Be enthusiastic about what you're teaching.
You can tell when someone you're talking with is enthusiastic about a subject: they know a lot about the topic, they usually won't stop talking, and they often have a slight twinkle in their eye. My dad acts this way when he talks about sports, such the latest 49er game or the basketball tournament at the local high school. And even though I am not particularly interested in this topic, I enjoy listening to him talk about it because there is enthusiasm behind everything he says. I have noticed that the more enthusiastic and interested I am about a subject when talking to the kids, the more intrigued and responsive the kids at the OEC are about that subject. For example, my co-worker Santiago loves birds. He takes pictures of them, tries to sing like them, and can name pretty much all of those we see in this area. When we are with a group and Santiago sees a bird he will point at it and name it and the kids will get super excited. I don't think many of them got that excited about birds before. His enthusiasm about this subject definitely rubs off on the groups, and has rubbed off a bit on me as well.
Work your butt off.
I thought I knew what it felt like to "work your butt off" but then I got this job and I think I finally understand what it really means. I have never been as tired after anything as I am after five days at the OEC. One time, after a group of middle school kids left the OEC after their visit, I fell asleep on the couch watching Tarzan on accident at 1:00pm … for four hours. I don't even like naps, and Tarzan is not a boring movie.
I feel like the reason this job is so tiring is because the kids visiting require your attention the whole time your with them. Most of the time, you can barely get a moment to breathe before someone is tapping you on the shoulder asking you the name of the purple wildflower by the rock or wanting to tell you about their favorite animal. If you're taking them on a hike you have to make sure everyone is feeling well and that they're drinking enough water while also teaching them about the surrounding wildlife. And not only are you there to be their teacher and leader during the trip but you are also there to listen, to be a friend. As an instructor at the OEC you don't only teach the kids about the amazing Mono Basin but you also eat with them and play games with them. Sometimes you just sit and listen to them talk about their day-to-day lives back at home, or ask them about their summer plans or favorite part of the trip so far. As an OEC instructor it is really nice to get to know the group you're with because it allows you to feel more comfortable around them, and makes them more comfortable around you. And although a day at the OEC is tiring, I wouldn't want to spend my time doing anything else.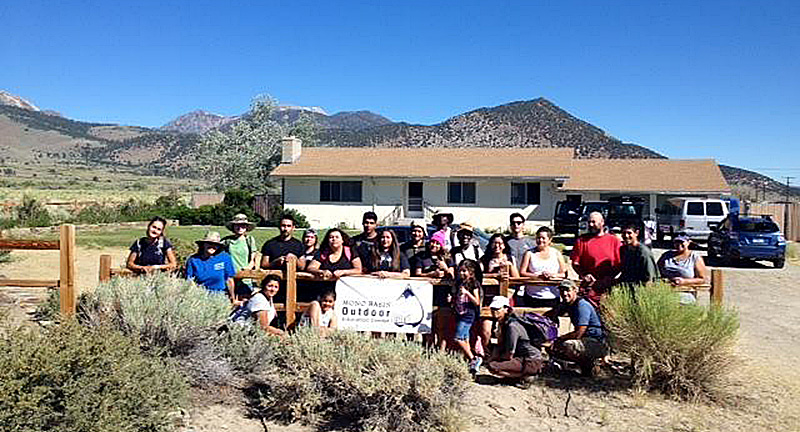 Being yourself, being enthusiastic, and working hard are just a few of the things I have learned about in my time working for the Mono Lake Committee. Each day I go to work I look forward to it, and each day is exciting and different. I look forward to seeing what the rest of the summer holds.