This last week, the Intergovernmental Panel on Climate Change (IPCC) released its latest Synthesis Report (fifth report since 1990). It is a stark, sobering, and interesting read in context of the previous reports since scientific data and analysis support increasing certainty regarding climate warming, anthropogenic causes, strong and comprehensive impacts on natural systems, and "high risk of severe, widespread, and irreversible impacts globally" without urgent and significant reductions in greenhouse gas emissions.
California is currently experiencing it's worst drought in history as the warmest year in history is about to be recorded. The long-term, increasing temperature trend for California, the ocean, and the rest of the world's landmass is unequivocal.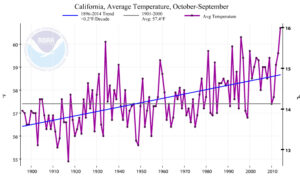 What does this mean for Mono Lake? The impacts this year are clear—the lake level dropped. Will this continue? Are the hydrologic models predicting future lake levels already out of date? Will climate change bring other, less obvious impacts? Are they underway now? Of the known changes, which ones can be mitigated? These are among the questions that the Mono Lake Committee is presently trying to answer.
What we do know is that there is no one else to take the lead. While US Forest Service and California State Parks may wish to be more responsive, their staffing and resources are strapped. The Los Angeles Department of Water & Power is only responsible for fixing the damage of past excessive water diversions. It will be up to all of us and the Mono Lake Committee to find solutions and to take action at Mono Lake as we cope with the impacts of climate change.