The Mono Lake volunteer program is a joint initiative sponsored by the US Forest Service, California State Parks, and the Mono Lake Committee, with support from the Eastern Sierra Interpretive Association and the Bodie Foundation.
Volunteers are an important part of these agencies' work on behalf of Mono Lake. The Mono Lake volunteer program has been extremely beneficial to Mono Lake—each year, volunteers contribute hundreds of hours of time—thank you volunteers!
What volunteers do
Volunteers are ambassadors for Mono Lake and the Mono Basin, meeting visitors from all over the world while teaching them about this unique place.
Core volunteer jobs include:
roving at South Tufa, Old Marina, or Panum Crater to answer visitors' questions and encourage resource protection
staffing a bird watching station at Mono Lake Tufa State Natural Reserve boardwalk at County Park
answering questions at the Mono Basin Scenic Area Visitor Center
pulling invasive plants and watering trees in restoration areas
helping with mailings for the Mono Lake Committee
With additional training, volunteers may also lead tours at South Tufa and Panum Crater and give patio talks at the Scenic Area Visitor Center.
The Mono Lake Committee also hosts several events that depend on volunteer help to run smoothly:
Adopt-A-Highway cleanup days
Mono Basin Bird Chautauqua
Tioga Pass Run
Participants choose their jobs to suit their own interests, while also matching the needs of the agencies and organizations involved to benefit Mono Lake.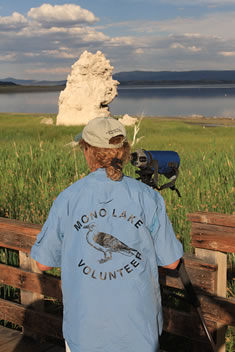 Volunteer training
Local interpretive experts Janet Carle and Dave Marquart, with volunteer coordinator Karen Gardner, conduct the Mono Lake volunteer training. It typically is held during the first weekend in June and consists of five field sessions focused on exploring visitor areas around the Mono Basin. There is no charge for the training, but it is requested that participants volunteer for at least eight hours per month during the summer season.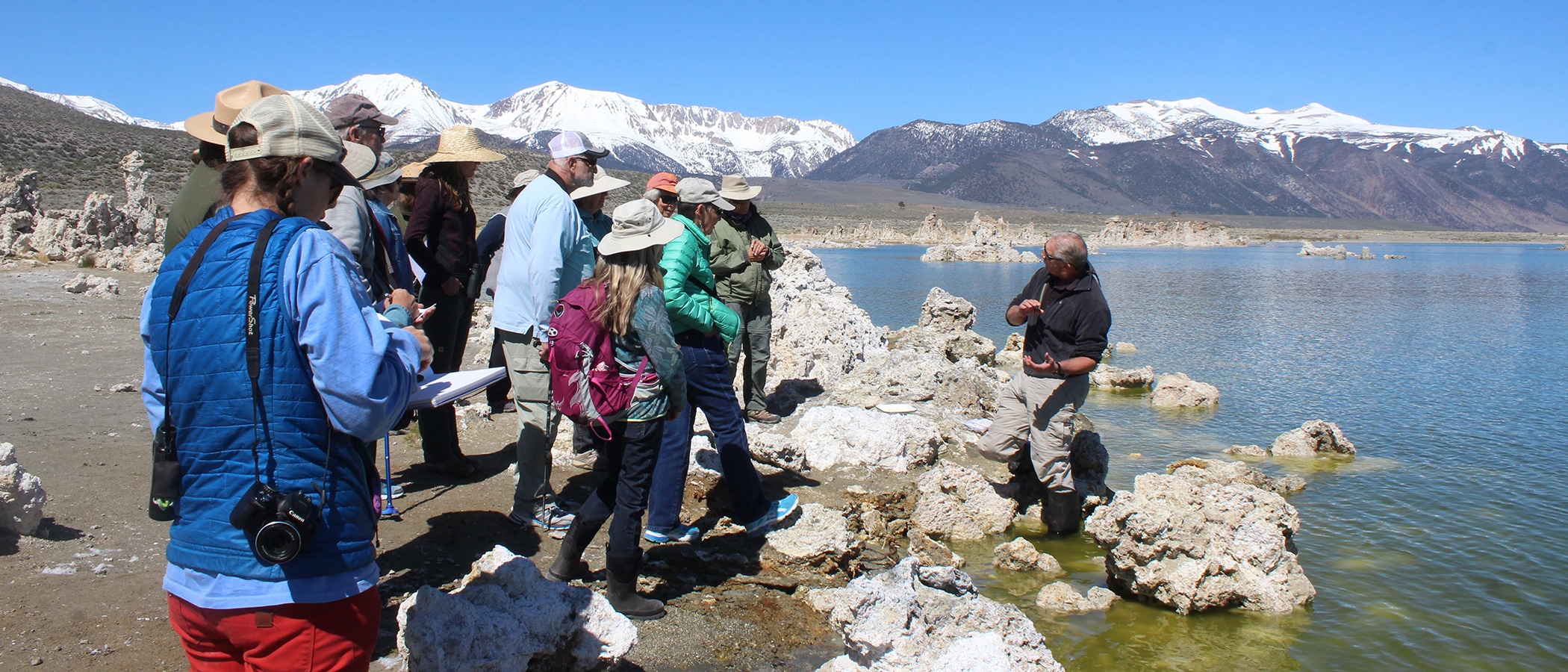 Karen and Janet also organize fun and informative volunteer training events and field trips with Mono Basin experts. Volunteers often stay connected throughout the year and organize get-togethers outside of regular volunteer events.
Meet the volunteers
Mono Lake volunteers are a diverse group that share a common love for the Mono Basin and enjoy passing on their enthusiasm to visitors and locals alike.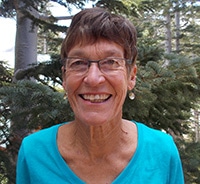 "My favorite volunteer activity is to focus my scope on an Osprey nest to begin conversations with visitors at South Tufa."

—Sherryl Taylor, Mammoth Lakes resident
"It is great fun interacting with all of the Mono Lake visitors who are hungry for information about this beautiful and ancient place."

—Ellen Mosher, Lundy Canyon and Prescott, Arizona, resident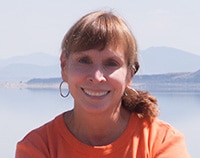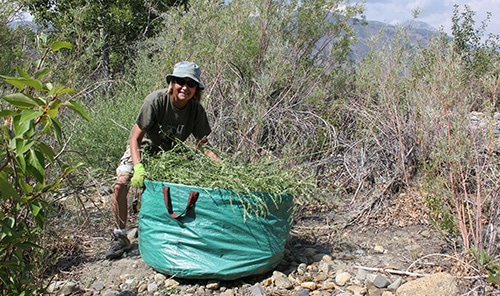 "I help with the restoration of Mono Lake—removing invasive weeds and also trail work. My nickname is "Maddog" so I try to live up to the name."

—Maddog, Hawthorne, Nevada, resident
Become a Mono Lake Volunteer
For more information or to sign up to volunteer, including for the next training session, contact Anna Christensen by email or call (760) 647-6595. 
Learn More