March 11, 2022
–
March 18, 2022
Wild & Scenic Film Festival: A virtual festival experience
Presented by the Mono Lake Committee
Join us for an evening of short films on hiking, biking, paddling, skiing, conservation, community, and wild places. This year you can join us from anywhere with an internet connection.
You can watch the festival live on Thursday, March 10, 2022 at 7:00pm Pacific ("doors" open at 6:30pm) to hear from Committee staff and learn more about the Mono Basin Outdoor Education Center and the current health of Mono Lake. With the live virtual experience, Committee staff will be there with you on live chat so together with fellow Mono Lake Committee members you can share thoughts on the films, get caught up on all things Mono Lake, enjoy the films in the comfort of your own home, and even have a chance to win some great raffle prizes.
With the purchase of your ticket you can watch the event at anytime for 7 days following the event (up to Friday, March 18).
All proceeds benefit the Mono Basin Outdoor Education Center.
Tickets
Tickets are now on sale! Get your tickets early and save 20% using promo code MONOLAKE20. Email us to learn about special discounted tickets for students.
After creating a Qudio account and purchasing your ticket you will receive an email from Qudio. Make sure to save your password and check your spam/junk folder. You will receive an additional email from Qudio close to the event day with the viewing link and instructions. We will also send out detailed instructions for attending this event to all ticket holders the week of the event.
Individual Admission
$10
Includes full festival admission for one person, plus one raffle ticket.
Household Admission
$25
Includes full festival admission for one household, plus two raffle tickets.
Tufa Benefactor
$40
Includes full festival admission for one household, plus three raffle tickets, and a $15 donation to the Mono Basin Outdoor Education Center.
Stream Benefactor
$50
Includes full festival admission for one household, plus four raffle tickets, and a $25 donation to the Mono Basin Outdoor Education Center.
Lake Benefactor
$75
Includes full festival admission for one household, plus five raffle tickets, and a $50 donation to the Mono Basin Outdoor Education Center.
Film lineup
Mono Lake Committee staff will be making special appearances throughout the evening between films, and there will be a ten minute intermission in the middle of the film program when the raffle will be held.
Raffle prizes
Every ticket to the festival includes at least one free raffle ticket. Raffle prizes will be announced soon.
Contact us
Questions? Contact Digital Engagement Coordinator Andrew Youssef by email or phone at (760) 647-6595.
Already have your tickets?
Log in to Qudio to access the festival.
We are excited to present the Wild & Scenic Film Festival! While we are not able to enjoy each other's company in person this year, we have simulated as much of the in-person event as we possibly can. If you still need to get your tickets, use discount code ADVENTURE25 to save 25%.
About the festival
Tune in live on Thursday, or watch at your leisure through March 18
Join the live event on Thursday, March 10 at 6:30pm Pacific (films start at 7:00pm), or watch anytime March 11–18 (your ticket includes unlimited viewing through March 18).
This Wild & Scenic Film Festival hosted by the Mono Lake Committee is a fundraiser for our beloved Outdoor Education Center (OEC) program which has connected youth, environmental and social justice groups, and other residents of Los Angeles to a source of their water in the Mono Basin for over 25 years. We're excited to share the films we have selected for this year's festival, many of which celebrate themes and messages that are often experienced during OEC participants' week long stays in the Mono Basin. During the festival, you will also learn more about the OEC program from staff and special guests. All event proceeds directly support the OEC.
Film program
This year, we are featuring nine short, inspiring environmental films, with a ten-minute intermission. Learn more about each film in the carousel below
Tonight's event
6:30pm – "Doors" open – get your film-watching set up dialed and grab a snack or mix up a themed cocktail
6:50pm – Slideshow to music with photos from the Outdoor Education Programs and scenic shots from the Mono Basin for you to enjoy
Act I
Introductions
Geoff McQuilkin, Executive Director
Santiago Escruceria, Outdoor Education Center Manager
Milton Hernandez Nimatuj, Southern California Program Director, Communities for a Better Environment
Matagi Mālohi: Strong Winds (3 min)
Water Flows Together (11 min)
Cracked (5 min)
Remarks by Nora Livingston, Lead Naturalist Guide
The Bird Nerds of Mono Lake (6 min)
From Kurils with Love (24 min)
Remarks by Andrew Youssef, Digital Engagement Coordinator
Intermission
Join in the chat and we'll announce the lucky raffle winners. Make a donation during the live event and be entered into a special raffle for a camp chair.
Act II
Remarks by Bree Salazar, Mono Lake Intern
Maneuvers (4min)
If I Tell Them (12 min)
Remarks by Rose Nelson, Education Director
Transcending (9 min)
Becoming Ruby (19 min)
Remarks by Sally Gaines, Co-founder and Board of Directors
Silent auction
We've added a silent auction to the festivities this year! Bid on a variety of outdoor clothing, gear, and fun prize packages to benefit Outdoor Education Center programs.
Auction items include binoculars, backpacks, Patagonia apparel, bike bags, art supplies, artwork, and goods from some of our favorite Black-owned and Indigenous businesses as well as popular items from our own independent bookstore right here at Mono Lake.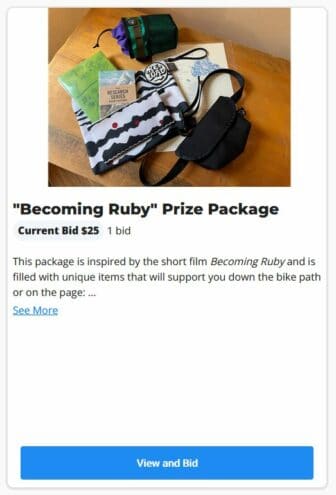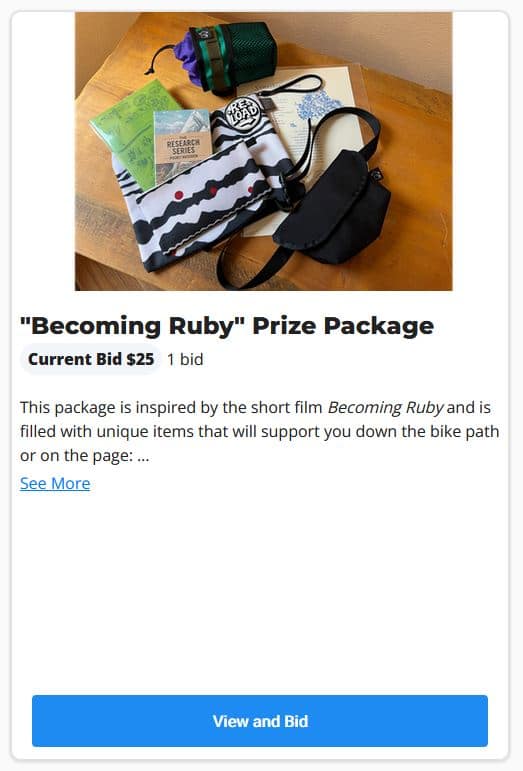 The auction is open through Friday, March 18, which is also the end of the on-demand festival viewing window.
Raffle prizes
Check out all the raffle prize packages you can win this year! Every ticket to the festival includes at least one free raffle ticket. Winners will be announced below each prize after the raffle.
Cocktail recipes
During intermission, you can make one of Robbie's signature cocktail recipes. Robbie is the Committee's Restoration Field Technician.
Film Festive
6 blackberries (plus additional for garnish)
1 tablespoon maple syrup
1 oz lemon juice
1 rosemary stem (plus additional for garnish)
3-6 oz sparkling water
Combine blackberries, maple syrup, and rosemary in a container and muddle.
Mix in lemon juice and strain syrup into a glass.
Add crushed ice and sparkling water.
Garnish with additional blackberries and a fresh rosemary stem.
Technical support
Watching the festival on your computer

For optimal viewing, please make sure that you are using the most up-to-date version of your web browser prior to logging in to Qudio. Qudio's preferred browser is Google Chrome. Here are links to up-to-date versions of web browsers supported by Qudio: Google Chrome, Mozilla Firefox, Apple Safari, Microsoft Edge.

Log into Qudio.com with the user name (hint: your username is your email address) and password you created when you purchased your ticket, or click this link.

Once you're logged in, find and click on the event in 'My Events.' Press the 'play' button and the program will begin automatically at 7:00pm. If for some reason the films do not start at the set show time, please refresh the page.
Watching the festival on other devices (including smart TVs)
Possible technical issues

Scenario 1: You already logged on, then clicked the registration link again around the time of the event and are presented with a screen that says 'you are already registered.'

There should be a link on the page to sign in. If so, click that link and enter the credentials you used to initially purchase your ticket. You should then see the Film Festival under 'My Events.'

Scenario 2: You are logged on, then clicked the direct link to the stream around the time of the event. Now you're presented with a screen with two options 'Log Out' and 'Your Account.'

Other Issues:

If the stream is lagging or stalled, or if you seeing the 'spinning circle,' please try refreshing the page. This may be a bandwidth issue.
If you encounter a message that reads 'quota exceeded,' you may have used your allotted bandwidth and might have to find a new internet connection.
Still need help?
If you are still having technical problems, use the yellow question mark (bottom right corner of Qudio.com) to chat with Qudio support or email info@qudio.com. If you have general festival questions, please email filmfestival@monolake.org.
Top photo by Joey Schusler, from the short film "Becoming Ruby."