2013 was an average year for the California Gull population at Mono Lake. Kristie Nelson, the Mono Lake California Gull Project Leader for Point Blue Conservation Science, finished the annual report in December. She reports that population size was average, and fledgling rate was below average but not especially low.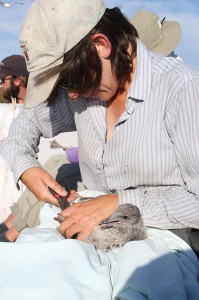 Kristie did express concern about the increasing risk of coyote predation due to the drought-lowered lake level, stating that two islets had been raided by coyotes in 2013 (one near Paoha Island and one at Old Marina, neither in the gulls' primary nesting habitat). This was the first confirmed coyote predation on California Gull nests since Mono Lake was at a similar level in 2004.
As the landscape changes due to the lower water level, islets not seen since the mid-1990s are reappearing. According to the 1993 Mono Basin EIR, three new Negit islets should appear this summer as the lake drops below 6380 feet above sea level. As the lake reaches 6379 feet by fall, one Paoha islet will become a peninsula (the one coyotes reached in 2013). The Old Marina Islet that became a peninsula last summer was the other gull nesting location suffering from coyote predation in 2013 (details can be found in the 2013 report).
The report is based on the 30th year of annual surveys at Mono Lake (there were few surveys before 1983).
Top photo courtesy of Point Blue Conservation Science.