Community members, friends, and family of Andrea Mead Lawrence gathered at Mammoth Mountain's Parallax Restaurant last Friday to present longtime golden trout and desert fish conservationist Phil Pister with the Andrea Lawrence Award.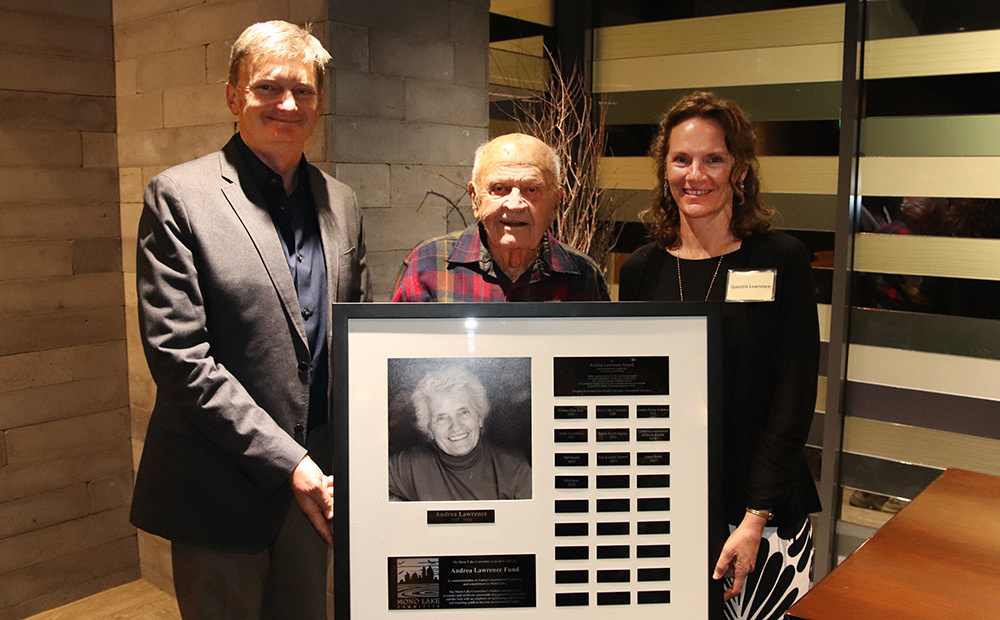 Phil spent his career with the California Department of Fish & Wildlife (at the time called Fish & Game) protecting the biodiversity of fish populations in the Eastern Sierra and beyond. Phil is perhaps best known for saving the Owens pupfish from near extinction by scooping the last-surviving, inch-long fish from their shrinking pond and carrying them to safety in two buckets. On this topic, in the magazine Natural History, Phil wrote, "I literally held within my hands the existence of an entire vertebrate species. If I had tripped over a piece of barbed wire or stepped into a rodent burrow, the Owens pupfish would now be extinct! But good fortune smiled upon us, and the recovery continues today."
While saving a species from extinction is worthy of an award in and of itself, Phil has gone far beyond that. Phil's work in the Eastern Sierra has fostered an ethic of conservation. He has worked tirelessly toward the goal of protecting and enhancing the area's fisheries for both recreational and biotic purposes, often citing the words of Aldo Leopold: "A thing is right when it tends to preserve the integrity, stability, and beauty of the biotic community. It is wrong when it tends otherwise."
Phil embodies the true spirit of the Andrea Lawrence Award, which celebrates passionate engagement in community and the land, and the Mono Lake Committee was honored to celebrate both Phil's and Andrea's legacies at this year's event. This fundraiser would not be possible without the generous support of the Lawrence family and Mammoth Mountain Ski Area. Thank you also to our guests; to speakers Tim Alpers, Carol Blanchette, Pete Korfiatis, Steve Parmenter, and Darrell Wong; and to award recipients like Phil Pister for their important work. Proceeds from the event go to the Andrea Lawrence Fund to encourage collaboration and to inspire youth to become environmental leaders.