This post was written by Sandra Noll, Birding Intern in 2014, 2015, & 2016.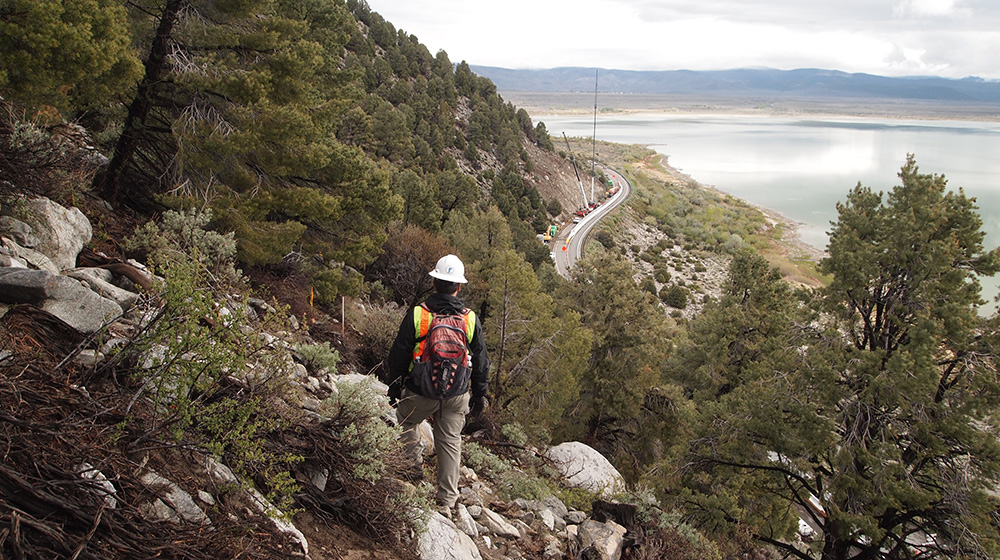 A confirmed "sidewalk superintendent," I am fascinated by construction sites. At least once a week I drive alongside the Caltrans Lee Vining Rockfall Project on Highway 395 just north of town and watch the progress of hillside stabilization, erosion control, and revegetation preparation with great interest. As a naturalist and one of this year's Mono Lake Committee Birding Interns, I am also on the lookout for interesting and unusual species. With observations enhanced by an active imagination, I've noted some strange mechanical creatures assisting their human counterparts in the effort—spiders, cranes and giant tube worms!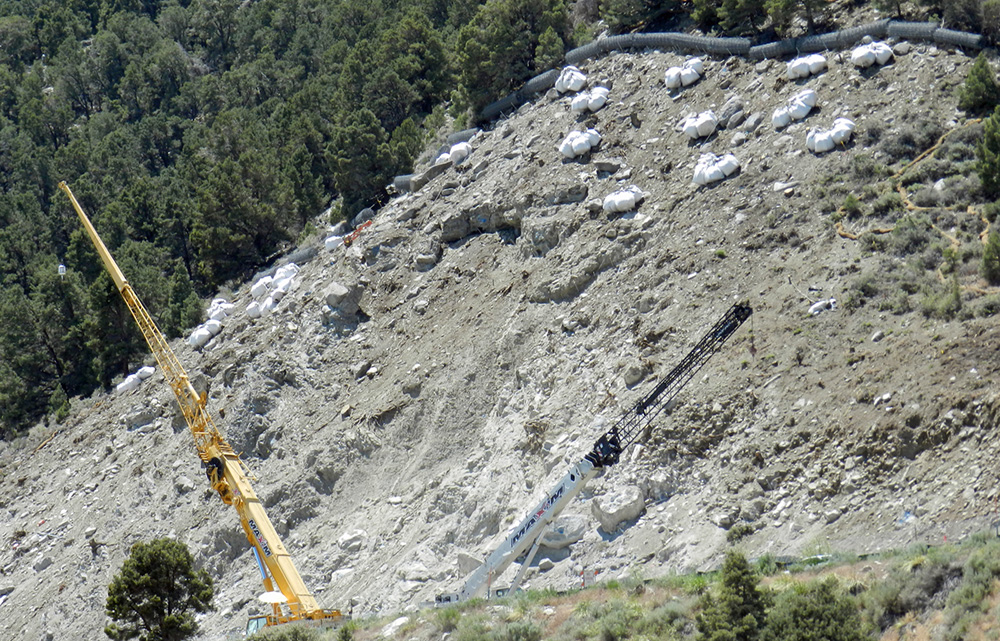 There have been two large white cranes and an even taller yellow crane lifting and stabilizing equipment on the steep hillside. Checking into these "species," I found that all three use hydraulic systems to power their impressive necks (booms and winches). The smaller white cranes have 75 and 95-ton capacities and the mammoth yellow crane a 200-ton capacity. Guided by highly skilled operators they have maneuvered 2,700-pound drill motors from the highway to the top of slopes, reaching 196 feet. Using the drill motors, crews have already embedded 1,594 1-inch-diameter bars to a depth of ten feet where they are grouted (bonded) from the bottom up. These cranes facilitate some serious work!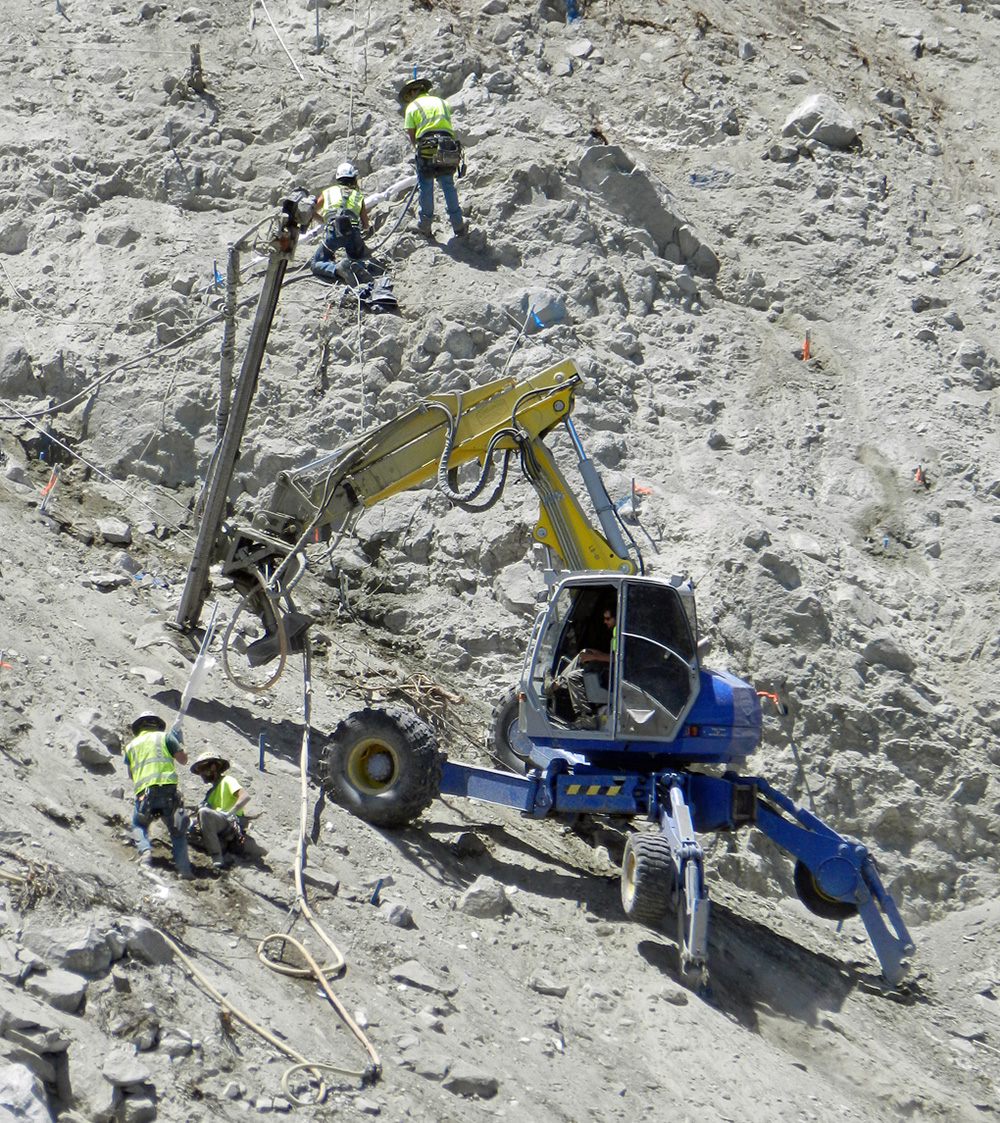 The agile royal blue spider (aka the Spider S-5 Excavator) is perhaps my favorite creature. Designed in Switzerland, this complex arachnid is controlled by a Swiss native who now calls California home. The spider can climb, perch, and support workers and equipment on an almost-vertical slope with no web! According to project superintendent Jerry Hallum, this spider is quite common in Europe but it's been a thrill for me to observe this unique species right here at Mono Lake.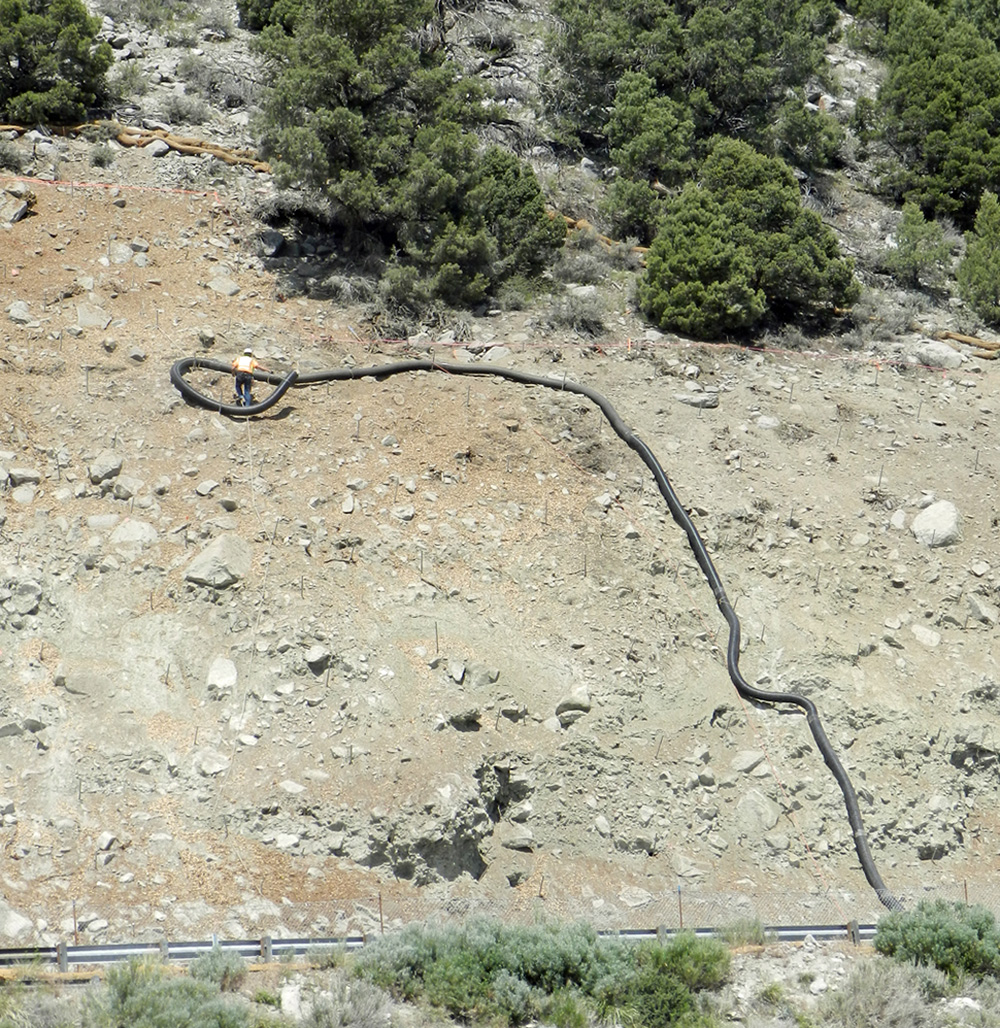 Although the above are literally called "crane" and "spider" by the construction crew, I coined the name of the third creature—giant tube worm—based solely on its physical characteristics. It is black with a tubular shape and accordion-like ribs which can alternately compress its entire body or extend it 100-plus feet upslope. Its intestinal system seems quite unstable, however, as it intermittently spews a rich mixture of semi-digested (mulched, one might say) plant material and seed onto the slopes. Fortunately, a skilled trainer is always nearby holding its leash and directing the flow.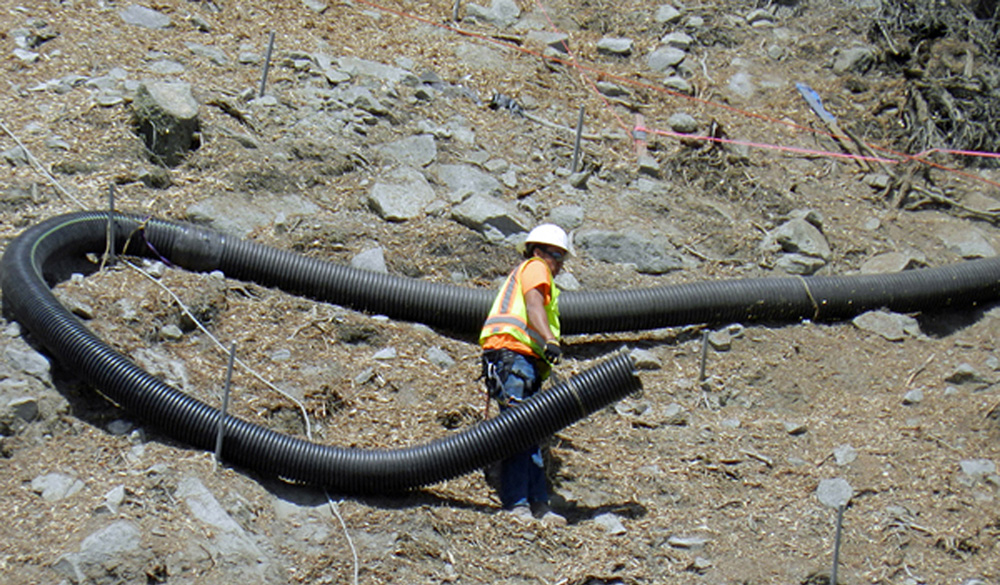 Jerry related that the "tube worm" is actually a creative innovation of the erosion control subcontractor to facilitate his crew's work. In steep areas upslope of the worm's reach cranes lifted large white bags of plant material, which was then spread manually by workers secured on safety lines.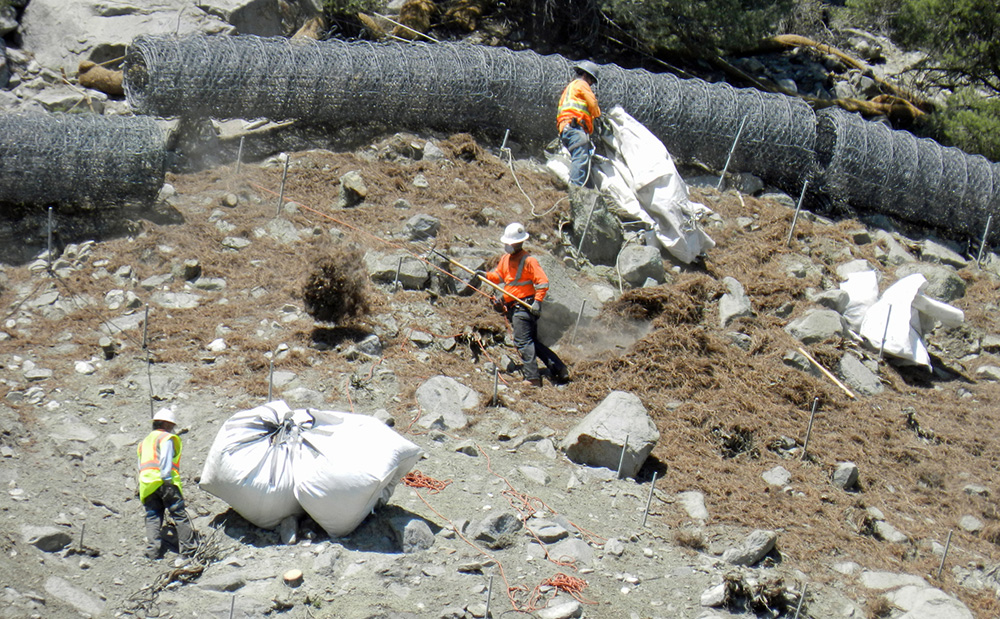 Although you will find detailed, official updates about progress on the Lee Vining Rockfall Project elsewhere on the Mono-logue, I submit this lighter view as one who has been amazed and impressed by the humans and machines accomplishing this work. It is my small tribute to those working in harnesses and climbing gear, maneuvering huge machines and complicated equipment, and all of those involved in the planning and execution of the project. Jerry Hallum is rightfully proud of the 27,500 man-hours logged to date without a single safety violation or injury.