The strong 2015–2016 El Niño winter is likely to turn out below-average in the Mono Basin. The 90% of average February 1st snowpack, and an 80% of average preliminary runoff forecast based on that snowpack, were followed by a dry February. In the next week, March 1st snow surveys will reveal how bad things are. A wet March might be able to catch things back up to average, but it would take a very wet spring to shift the snowpack and snowmelt runoff above average at this point. From 1980–2010, the lowest March snowpack that resulted in above-average runoff was 110%.
This means that Mono Lake could very well drop again this year. The following graph shows April 1st snowpack on the x-axis and the likely range of Mono Lake levels over the following 365 days on the y-axis, assuming Mono Lake is at 6378.3 feet above sea level on April 1st. Orange bars indicate a decline to the lowest point during the year, and grey bars indicate a rise to the highest point during the year. April 1st snow water content less than 100% of average is clearly associated with a declining lake level, although precipitation during the year (especially in runoff years ending with a wet winter) can shift the lake level upward.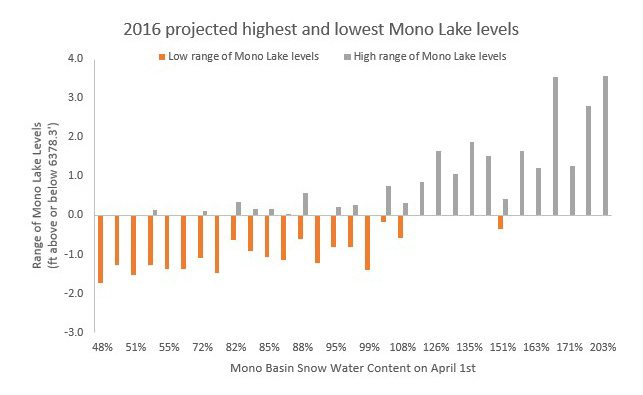 A Mono Lake level lower than 6378 feet during the California Gull nesting season (April–August) is a threat to the gull colonies, and increases the potential for coyote access to and predation on the gulls nesting on the islands and islets (see Winter & Spring 2016 Mono Lake Newsletter article for details—posted here soon—about the Committee's proactive efforts to protect the gulls). Levels below 6377 feet trigger a halt to surface water export from the Mono Basin to Los Angeles in order to protect the gull colonies and Mono Lake. Surface water export was already reduced this past year when Mono Lake dropped below 6380 feet.
The Grant Lake Reservoir level is also low—below 11,500 acre-feet. The last time it was this low was 2009, when it dropped much lower due to a runoff forecasting error in 2008. That runoff forecasting error triggered much greater releases of water from the reservoir than the snowmelt runoff that filled it that year. A very wet or very dry spring could result in a similar error this year, but better data and responsive adjustments in planned operations could avert a repeat of 2008–2009. The last time Grant Lake Reservoir was this low due to accurately-forecasted dry conditions was January 1989—over 25 years ago—which is an indication of just how dry it has been. Mono Lake is the lowest it has been since 1995.
Last year's record-shattering low April 1st water content of only 14% of average could have resulted in worse runoff were it not for the record spring-summer precipitation in 2015. The snowpack this April will hold many times the water content it held last year, which will allow for some short-term drought relief for the creeks this year. But the cumulative dryness expressed in reservoirs, groundwater, and lakes will continue to remain extreme–unless a very wet spring is on the way.