Today the US House of Representatives voted 282 to 144 to pass S.22, the Omnibus Public Land Management Act–but since a 2/3 majority was required for procedural reasons, the bill hasn't passed yet.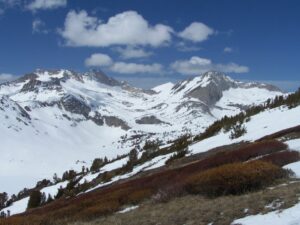 Another vote will be taken at some point, perhaps soon. And an amendment was added which requires the bill, if it passes, to go back to the senate.
Please call your representative and thank them for voting yes! If they voted no, please call them to ask that they vote yes the next time around. See how your representative voted. U.S. Capitol Switchboard phone number to be transferred to your Rep's office: (202) 224-3121.
Please explain to your representative why you support this bill. The Mono Lake Committee supports it because it would add to the existing Hoover and Ansel Adams wilderness areas in the Mono Basin watershed. Public lands at the headwaters of Lee Vining Creek, including Mt. Conness, the Tioga Crest, and the Mt. Warren-Lee Vining Peak plateau, would be permanently protected from development and water extraction by being added to the National Wilderness Preservation System. The bill would also create new wilderness areas on public lands at nearby Granite Mountain, the Owens River Headwaters, and the spectacular White Mountains, and it would expand the John Muir Wilderness.
Please see our action alert for more details. And thank you!