Starting today, the Mono Lake Committee headquarters in Lee Vining will begin to look a little different.
If you have been to the Information Center & Bookstore in the last few years, you may have noticed that the facade has seen better days. The plaster is flaking off, revealing old layers of crumbling stucco, and its last coat of paint went on in … 1993! It's time to fix things up.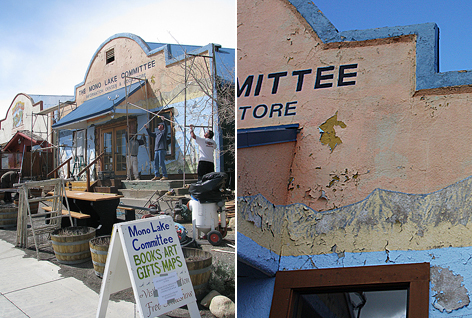 This week the old paint will come off and the flaking plaster will come down, thanks to a "sandblasting" process that actually uses crushed walnut shells. Once the facade is clean, the entire front will be re-coated with a new plaster and stucco finish. New, downward-facing lights will improve the look of the building and reduce light pollution into the Mono Basin's famously dark night skies. In addition to new plaster, stucco, and lighting we plan to add more solar photovoltaic panels!
These improvements have been the subject of  much discussion and planning. We have gotten great suggestions and responses from Committee members thanks to Newsletter articles and online surveys over the past two years.
There has been a lot of community discussion about improving the look and attractiveness of Lee Vining, and the Mono Lake Committee is doing its part. Our storefront will be more appealing for visitors, which will help share information about Mono Lake with more people. We also house the Lee Vining Chamber of Commerce, and the cleaned-up storefront will help us get more information out about restaurants, motels, things to do, and road conditions.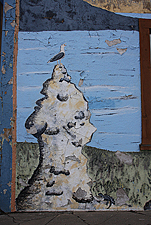 If you know and love the Committee building, never fear—we will preserve the building's distinctive shape to stay consistent with our history. One question of particular note has been whether to repaint the current mural after the facade is repaired. Response has weighed in favor of simplifying the front and leaving the mural (and to some extent the 1970s) behind, but there's been consensus that weaving natural history elements into the exterior space is fun and appropriate for the Committee. As a result, we have a new plan to take the mural off the storefront and include birds, wildlife, and tufa throughout the entire space in front of the Information Center.
Funding for these improvements comes thanks to donations from the Committee's 16,000 members, and special thanks go to two dedicated Mono Lake advocates who each left memorial gifts to the Committee for the purpose of bettering the Information Center in order to continue to assure long term support for Mono Lake's protection.
Stay tuned here on the Mono-logue for more updates about the exciting changes out front.