This post was written by Julia Runcie, 2011 Mono Lake Intern.
This Wednesday, August 17, join Mono Lake Committee interns and local volunteers as we water Jeffrey pine seedlings along Rush Creek. The trees were planted in an effort to help restore healthy riparian vegetation to the creek, which ran dry for about 50 years due to excessive diversions.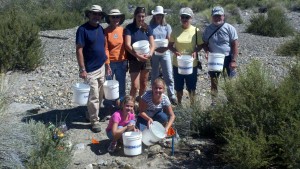 Jeffrey pines are unusual trees, growing primarily in a narrow corridor from southern Oregon south to Baja California. Large stands of Jeffrey pines occur right here in Mono County, where rich volcanic soils aid their growth. The pines provide habitat for many local species, including White-breasted Nuthatches and golden-mantled ground squirrels. Along the creeks, Jeffrey pines help stabilize loose soils and prevent stream bank incision during high flows.
We'll start the morning at 10:00am on the Visitor Center patio with a short interactive presentation on restoration work in the Mono Basin. Afterwards, we'll carpool to the banks of Rush Creek and spend an hour watering the young pine trees. It's a fun way to participate in the recovery of Mono Lake's largest tributary stream while enjoying the outdoors. Best of all, we provide delicious snacks to thank you for your help!
Join us at 10:00am at the Visitor Center this Wednesday, or contact Julia or Mila at (760) 647-6595 for more information.