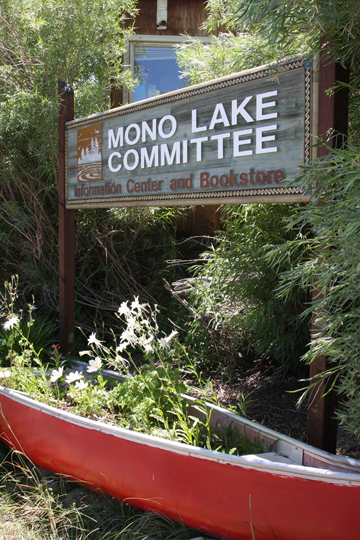 This post was written by Rosanne Catron, 2010 Information Center & Bookstore Manager.
Last week, Mono Lake Committee staff met with architects from Siegel & Strain to brainstorm ideas for remodeling the front of the Information Center & Bookstore. Siegel & Strain have experience with eco-friendly layouts and materials, and focus on using sustainable, local resources in their plans.
They came to us with some rough plans incorporating the suggestions of staff, members, and visitors. These suggestions included tiered steps for sitting and reading, spots for benches, an outdoor retail space, and an educational map of Mono Lake that would be incorporated right into the patio. Other ideas developed during the meeting included a larger awning for shade, a kiosk for information and fliers, a sound screen for quieter outdoor meeting spaces, and places for educational and useful water conservation devices. Of course, we have more ideas than space, but the new storefront will definitely incorporate some of these concepts.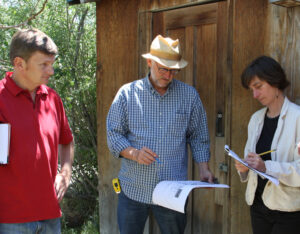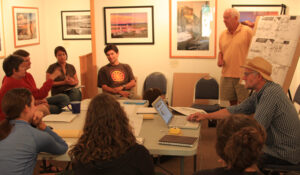 After listening to our comments, suggestions, likes and dislikes all day (and taking copious notes), the architects plan to draw up new plans that we will look at once again. It's a long road planning such a huge project, especially one with so many possibilities, but we all came away from the meeting feeling really excited about our future storefront.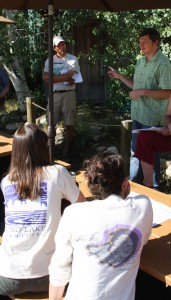 If you have ideas for the storefront, it's not too late! Let us know what you think by emailing me or calling us at (760) 647-6595. Thank you to all of you who already wrote and called us with suggestions, and thanks also to all of our members whose donations make this project possible!