In celebration of the Mono Lake Committee's 40th anniversary, this year for Giving Tuesday, our goal is to raise $4,000 to jump start the next 40 years of our work at Mono Lake.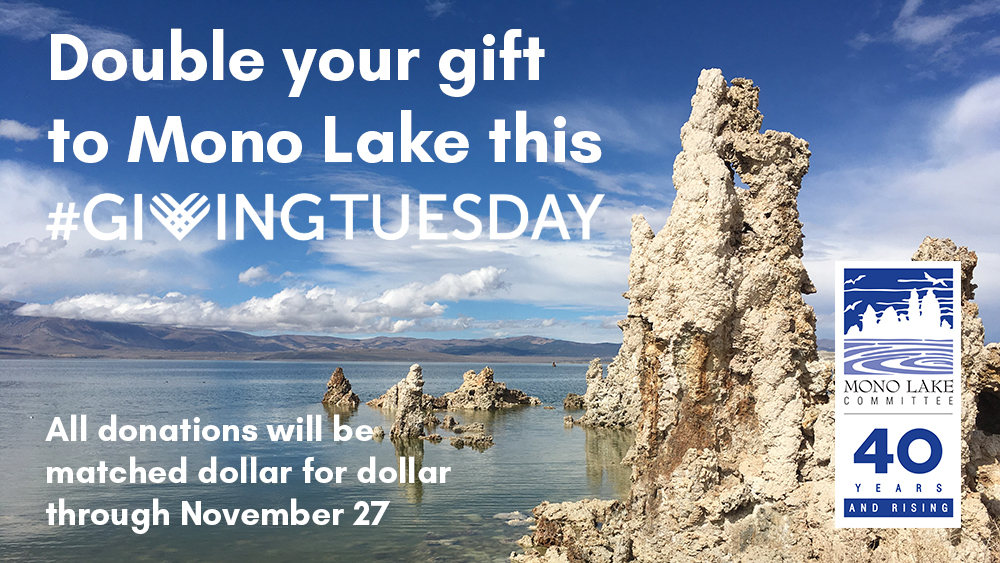 Beginning today, until midnight on Giving Tuesday (November 27), all donations will be matched, dollar for dollar. With your support, we can do more to ensure the protection of this unique place for future generations.
Here's how you can help:
Donate today to lock in your gift and double your impact
Tune in to Facebook Live on Giving Tuesday (November 27) at 9:00am PST for a live look at Mono Lake and an update on our Giving Tuesday progress
Share this message with your friends and family and let them know why you support the Mono Lake Committee
For 40 years the Mono Lake Committee has been committed to protecting and restoring the Mono Basin ecosystem and educating the public about Mono Lake and the impacts of excessive water use. Nearly all of the funding that makes our work possible is thanks to individuals like you—every drop counts. Thank you for your support!