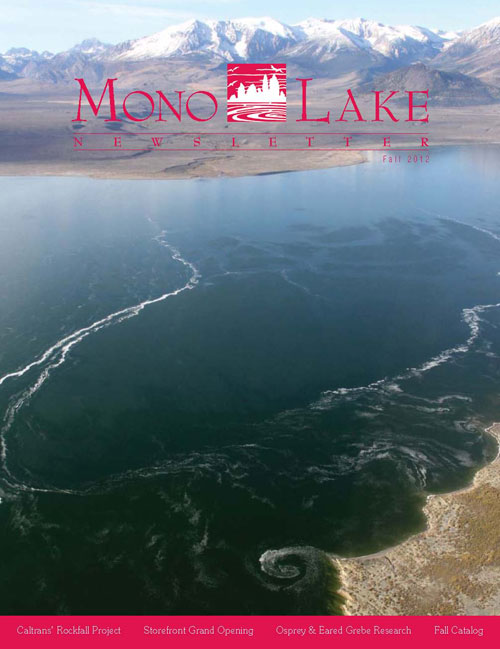 The photo on the cover of the Fall 2012 Mono Lake Newsletter was taken from the back seat of a Cessna flying at precisely 1,200 feet above Mono Lake during the annual fall Eared Grebe survey. Sixteen transects over the lake were expertly flown by LightHawk volunteer pilot Geoff Pope while local photographer Stephen Ingram followed the study's photography protocol of holding his camera out the window to capture images of the small dots peppering the vast lake surface.
I sat in the back seat like a kid finally tall enough to ride her first rollercoaster. We lifted off and before we had reached cruising altitude I had taken over 100 photos. Hair and camera straps flapped in the wind, and my forehead and camera lens bounced on the windows as I spastically tried to take it all in.
We could see the Rush Creek delta all the way up to the headwaters and the partially submerged landbridge below Black Point. There are ponds and lagoons along the lakeshore in the craziest colors—bright yellow, deep purple, and unreal red. Craggy tufa groves rise out of algae-green water and bathtub rings circle the lake deep into the sagebrush desert. At one point I was looking out the far window when Stephen tapped my knee. Down below was the perfect spiral of foam you see in the cover photo.
My reaction to the spiral was a mixture of wonder and familiarity. I simply thought, "Yep." I've never seen anything like that on the lake before, but that's one of the things about Mono Lake—you grow to expect its surprises. They're out there every day, tossed in with all that wild and staggering beauty, and if you keep your eyes out, eventually you'll catch one in action.
It is with this spirit that we offer you the current edition of the Mono Lake Newsletter. I hope you find some neat surprises in its pages.