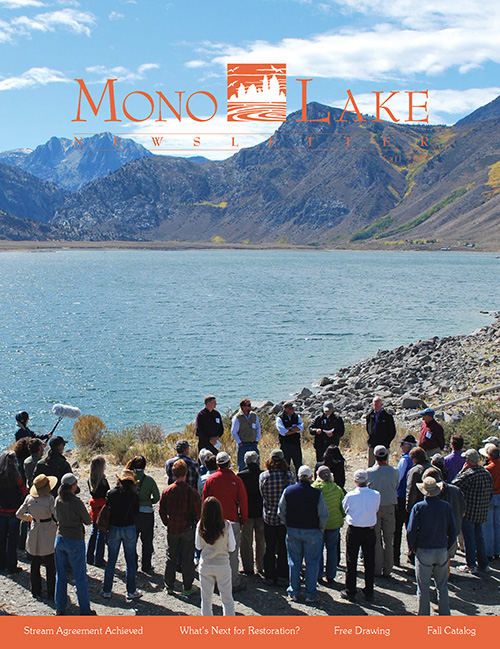 I wish you could have been here in the Mono Basin on September 30. Yes, you, who just flipped to this page—maybe you're the longest-running member of the Mono Lake Committee, or the scientist who studied songbirds here, the wackiest intern, the mother of the wackiest intern, the most dedicated lawyer, the water drinker from Los Angeles, the kid who tried an alkali fly at South Tufa, the fifth-generation Mono Basin family member, the Highway 395 truck driver, the Chautauqua bird calling contest winner, or the international visitor who accidentally got stuck here for the night and fell in love with Mono Lake—we celebrated a big success, a big success for all of us.
In this issue of the Newsletter you'll get the details of the brand new Stream Restoration Agreement and why it is worth celebrating. I also hope you'll get some of the feeling we had that day—out there under the beautiful fall sky marking an occasion many, many years in the making.
We celebrated the agreement with thoughtful words from partners in the negotiations, a field trip into the Grant Dam spillway, a joint tree-planting on the bank of Rush Creek, and a toast to the future of restoration. We honored the legacy of scientific research, cooperative solutions, progress in water awareness, and the untold numbers of people who have played their part in getting to this unprecedented time and place. We celebrated the combined effort to balance the water needs of people in Los Angeles, with the water needs of the birds, brine shrimp, caddis flies, and trout in the Mono Basin.
The good news is that you didn't miss the only chance to celebrate. The trees we planted were not the first, and they will not be the last. It is important to honor the progress made, and acknowledge the work left to do. The Mono Lake Committee is not going anywhere—not only is there a lot more work to be done, but we're just getting to the really good parts of restoration.
I hope that this issue of the Mono Lake Newsletter brings you joy as well as resolve to keep pushing this effort forward. Together, we are the people protecting Mono Lake for future generations.