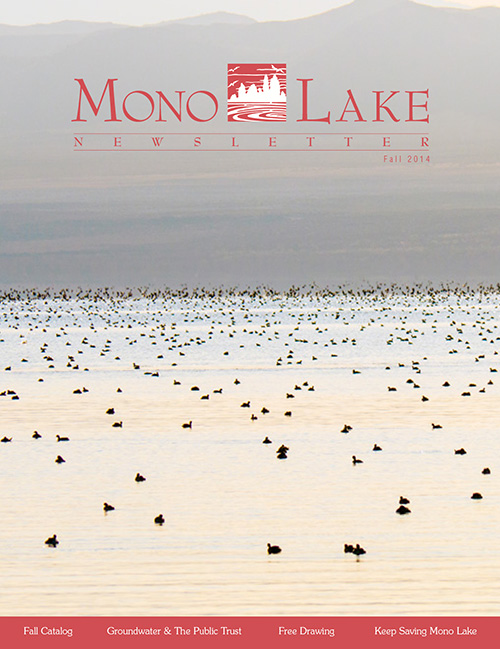 On behalf of the entire Mono Lake Committee staff I'm excited to announce that the Fall 2014 edition of the Mono Lake Newsletter is now available online! Every time we ready the Newsletter to go to press I write a short letter from the editor that appears on page 2—it's a welcome message, and an introduction to the issue. Here's how it goes this time:
_______________________________
Recently my friend John Anderson came by for a visit and said a surprising thing: "The lake is so high!" It was the only time I heard that this year. As a member of the 1979 California Gull research crew when the lake level was 6373.4 feet above sea level, his comment makes more sense, and was a good reminder to keep things in perspective here at 6379.3.
In the past three years we have had to remind ourselves that under California State Water Resources Control Board Order 1631, Mono Lake is being managed to rise over time. Among the many wisdoms in D1631 is the graduated lake level and diversion schedule that was developed specifically for that purpose. On page 14 is Greg Reis' expert analysis of the current lake level in relation to that schedule, and probability of 4,500 versus 16,000 acre-feet of diversion that gets determined on April 1, 2015.
Are you thinking about the landbridge? I am. At lake level 6377 the landbridge between Negit Island and the mainland gets exposed. As I write, the submerged flats sit under just 2.3 feet of water. If coyotes really wanted to get out to Negit right now, they probably could.
What are we going to do? Well, Los Angeles Mayor Eric Garcetti just issued an executive directive for LA to reduce its fresh water use 20% by 2017. This is absolutely the time to be putting forward-thinking programs like this in place, and it is exciting to see LA pushing the forefront of water conservation action.
But then, it's time to wash the dishes. And I'm still thinking about the landbridge. What is a person to do? Keep perspective, keep an eye on that landbridge, pray for snow, and … use water like you're camping.