Brilliant fall days now have snowy peaks added to the mix after Tuesday's storm.
WEATHER
It rained 1/4 inch per hour all afternoon and evening on Tuesday, with a snow level around 8,000 feet. The Mono Basin ended up with 2.2–2.8 inches of rain and Tioga Pass ended up with two feet of wet slushy snow that melted rapidly during the warm days that followed. Gorgeous days in the 60s will cool off a bit early next week. Click here for current conditions.
FALL COLOR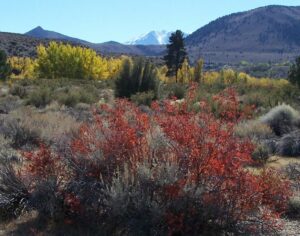 Middle and low elevations are peaking right now! This is one of the best years for fall color that I can remember along the Lee Vining Creek trail—so many red dogwoods and roses and fireweed, and yellow aspen, cottonwoods, willows, and serviceberry. There are many green trees also that will be getting colorful next week. There are a lot of tinges of orange amidst the yellow. Snowy peaks and brilliant blue skies add to the loveliness.
HIGH COUNTRY
Tioga Pass reopened Thursday at noon and the Webcam shows a very snowy landscape at 10,000 feet. Bodie reported eight inches of snow and Hwy 270 to Bodie and 108 over Sonora Pass are still closed as of Friday morning. Click here for road conditions. Expect snow above 8,000 feet to be melting rapidly in the sun, but several feet of snow at the highest elevations will linger. Mammoth Mountain opens Friday with a free skiing day and up to six feet of snow!
BIRDS
A Vermillion Flycatcher was spotted this week! See our bird sightings page.
MONO LAKE
Mono Lake was dropping at the rate of 1/10 of a foot per week. Tuesday's rainstorm not only stopped the dropping, but raised the lake about 1/10 of a foot. The current lake level is 6381.6 feet above sea level. With the continued warm weather expect the lake to resume falling. Eared Grebes are still on the lake in certain locations in large numbers. The lake is green but brine shrimp are still visible and the friendly alkali flies swarm on the shores on warm days.