Wow! With 53.3″ of snowfall, February 2019 was Lee Vining's snowiest February on record. The Lee Vining record begins in 1989, with the previous record 49.0″ of total snowfall in February 1998.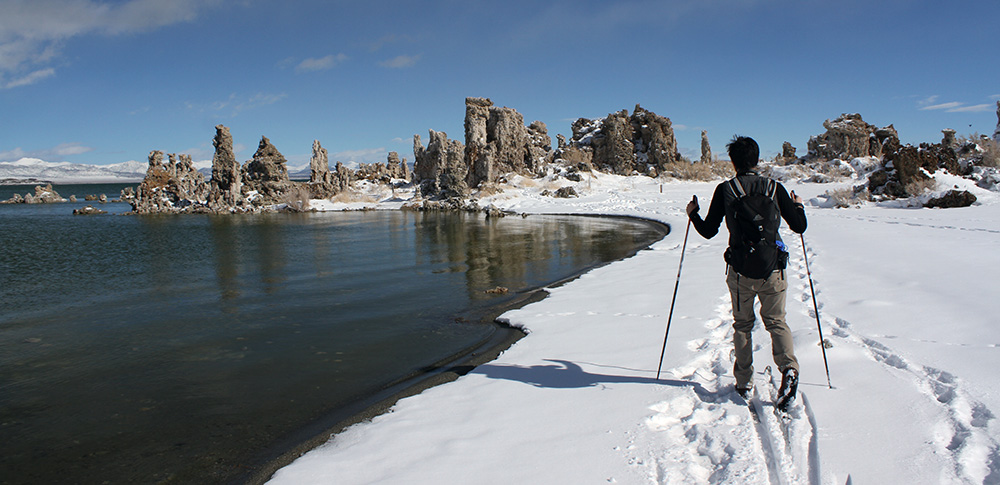 Total snowfall for January and February 2019 was the third-largest on record with 78.5″, lagging behind the same time-frame in 2008 with 91.4″ of snow and 1993 with 81.2″ of snow. Snowfall this past February was 313% of average, and the January–February total was 209% of average. The 2019 seasonal total snowfall of 90.7″ already ranks within the top seven snowiest winter seasons, with the potential for additional snow remaining in the weeks ahead.
Precipitation-wise, it was the third-wettest February since 1989. With 5.95″ of total water measured, February 2019 was wetter than all Februaries except 1998 (8.51″) and 2017 (6.30″). This means February 2019 snowfall wasn't the heaviest, due to the cold storms containing less moisture. February snowfall/precipitation ratios were 8.96 in 2019, 3.56 in 2017, and 5.76 in 1998.
The high-elevation Mono Basin snow surveys were completed on March 4, and the results are no less remarkable than the Lee Vining totals. Snowpack water content more than doubled since the last snow survey at Gem Pass and Saddlebag Lake (rising to 160% of average), Ellery Lake (rising to 166% of average), and Gem Lake (rising to 169% of average).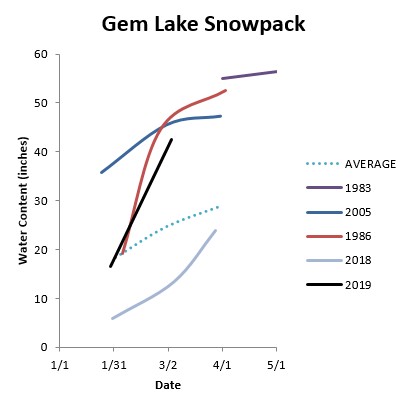 The February-period increase was the highest on record at Gem Lake, second-highest on record at Gem Pass and Ellery Lake, third-highest on record at Saddlebag Lake, and fourth-highest on record at Tioga Pass.
The early-March snowpack is typical for a wet year, but the final snow surveys in April will be used to determine the official runoff year type. All this snow means that Mono Lake will rise this year, but how much? Stay tuned as we develop our March lake level forecast, which we'll share here on the Mono-logue.