This post was written by Julia Frankenbach, 2013 Project Specialist.
Greetings from the west shore of Mono Lake, headquarters for the management of the Mono Lake Committee's North American Eared Grebe counts! Here at Mono Lake, Emma Oschrin and I have been busy once every two weeks setting things up for the grebe counts the Committee has been coordinating since mid-September.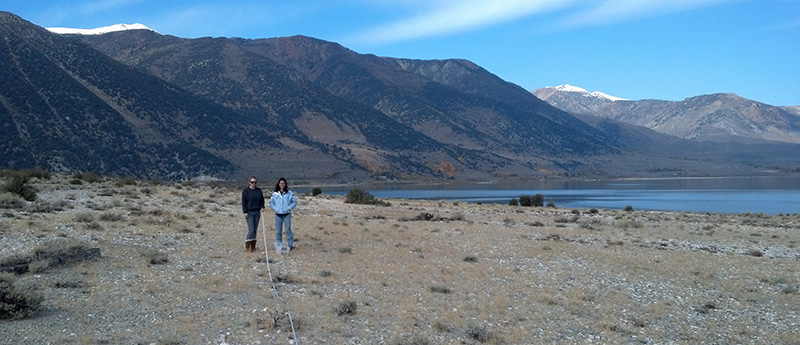 First, why this exciting project is so important: After the summer breeding season, over 90% of the entire North American population of Eared Grebes migrates to two lakes in the United States—Mono Lake and Great Salt Lake—where the adults undergo body and wing molt. The fact that almost the entire North American population of grebes concentrates at two geographically restricted sites is highly unusual for any migratory species.
For many years, Canadian biologist Sean Boyd—a leading Eared Grebe researcher—has been coordinating annual fall grebe counts on Mono Lake as part of his effort to track population fluctuations and health. Past counts have found as many as two million grebes—about 30% of the entire continent's population—confirming that Mono Lake is the most important fall staging site for the birds in all of North America. Because Mono Lake supports such a high percentage of the grebe population, Dr. Boyd's annual counts provide insight into the overall state of the Eared Grebe population. In light of this, the Mono Lake Committee has volunteered our efforts to the project during the past five years. As this season's Eared Grebe count coordinator, I have had the opportunity to work closely with Dr. Boyd in an effort to successfully perform five distinct counts over the course of two months.
To conduct each count, we first charter an aircraft. Past flights have come through pilot Geoff Pope at Black Mountain Air Service, based out of Bishop. We have a wonderful working relationship with Black Mountain Air and greatly appreciate the expertise that Geoff has brought to our grebe counts. We have also received several flight sponsorships  from LightHawk, a volunteer-based aviation organization that provides flights for causes promoting environmental stewardship. LightHawk has been critical to our grebe-counting efforts over the years, allowing us to significantly expand the reach of our population data. Also, we would not be able to conduct successful counts without our volunteer professional photographers. This year's photographers are Stephen Ingram, John Dittli, Andy Selters, and Rick Kattelmann. Many thanks for their willingness to be involved!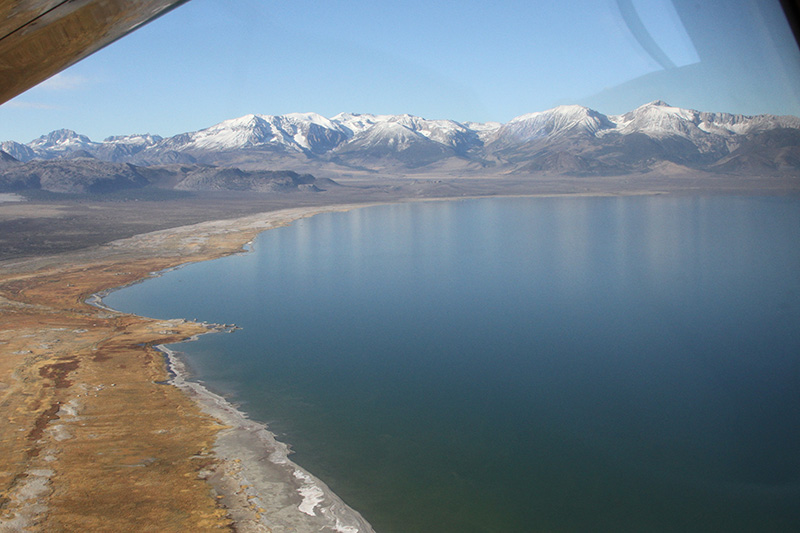 Here on the shore of the lake, Emma and I contribute to the endeavor by setting up a configuration of aerial targets each morning before the aircraft arrives. The task entails setting out nine targets in a 100 x 100-meter square near to the shore. Once the configuration is complete, the photographer captures it from above as a marker of scale.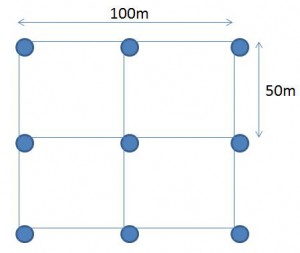 Once the aerial targets have been photographed, the pilot and volunteer photographer fly over the lake following 16 specific transects while taking consistently-timed photographs of the lake surface. The photo sampling captures approximately 3% of the lake's surface. Though this may seem like a small percentage, the generally uniform distribution of grebes across the lake allows for accurate extrapolation of total grebe population on the lake. After the flight, grebes are manually counted in the images by our wonderful grebe volunteer, Kristin Allsbrook Ciafola. Since 2008, this process has been successful in providing Dr. Boyd with telling data on the population health of migrating Eared Grebes.
For me, coordinating the Eared Grebe counts has been rewarding in myriad ways. It has involved interaction with wonderful local photographers and pilots willing to donate their time and resources to bird conservation. It has entailed early mornings at the shore of the lake, when the still-groggy Sierra landscape is shot through with bright eastern light, illuminating frosted carbonate pavements and casting tufa shadows so long that they seem to touch the base of the Sierra wall. It has brought little thrills as we hear the steady drone of a Cessna 180 aircraft topping the Mono Craters and heading for the lake. What a small wonder to stand at the south shore on a bright, still morning, watching everything come together in the air as the aircraft begins its transects, all to ensure the continued protection of these small but significant birds. My warm thanks goes to every pilot, photographer, LightHawk representative, and Mono Lake Committee staff member who has contributed to this effort. And special thanks to Dr. Sean Boyd, whose research is helping to further scientific understanding of Eared Grebes, a species of great significance to the Mono Lake and great North American ecosystems. We are delighted to contribute.