Some preliminary results from the 2014 Eared Grebe surveys are in: 2014 will be the fourth year in a row with peak numbers of at least a million birds. Although the late-September grebe photographs are still being counted by Environment Canada's Sean Boyd, the four other counts between mid-September and mid-November have been compiled. The peak abundance of Eared Grebes on Mono lake—about 1.2 million birds—occurred during the first of five 2014 counts, in mid-September.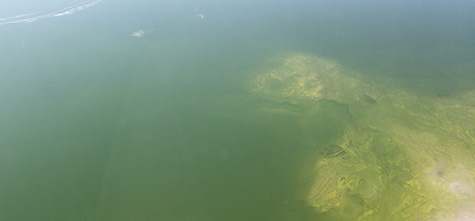 From 1996 to 2012, counts were done once a year in mid-October, during the historical peak abundance. But the grebes have often been leaving Mono Lake earlier in the year. In order to capture earlier peaks, starting in 2013, five counts were conducted. The 2013 peak of 1.3 million birds occurred on the traditional mid-October count, and showed a steep drop-off in numbers following that count.
In 2014, the investment in multiple counts was returned, when the peak count was prior to and three times as large as the mid-October count. Without the five counts, we would be telling you there were only 368,000 Eared Grebes on Mono Lake last fall. Thanks to the multiple counts, we can tell you that the number of Eared Grebes stopping at Mono Lake during the fall migration remains steady at about 1.2 million birds.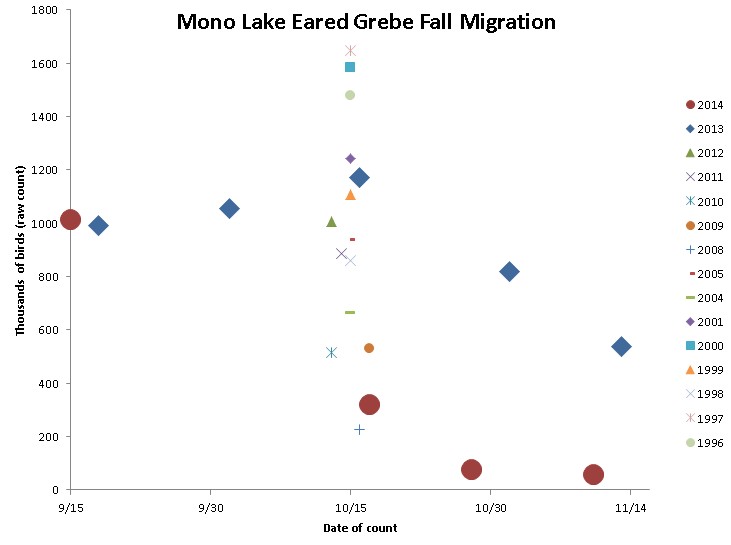 However, we are concerned about the timing shift in the grebes' abundance. We have been seeing changes in the productivity of Mono Lake's ecosystem, such as a shift in brine shrimp productivity and timing, that could affect Eared Grebes and other birds that rely on the lake's abundant food source. The shift in the timing of the grebes' peak abundance may be a reflection of the shift in brine shrimp abundance, but we don't know enough yet to say definitively. Because of these changes, the importance of long-term research has never been greater for giving us a shot at answering questions like these.
Click here to see the numbers and read more about the research.