This post was written by Emma Oschrin, 2013 Project Specialist.
There have been a few moments in my life that have truly come full-circle. One such moment occurred recently right on the shore of Mono Lake. As a relative local, growing up in Bishop, I was raised coming to Mono Lake. Ever since my family moved to the Eastern Sierra when I was a baby, this has been a place we frequented. And, as is the case with many Mono Lake visitors, this place stayed with me through the years.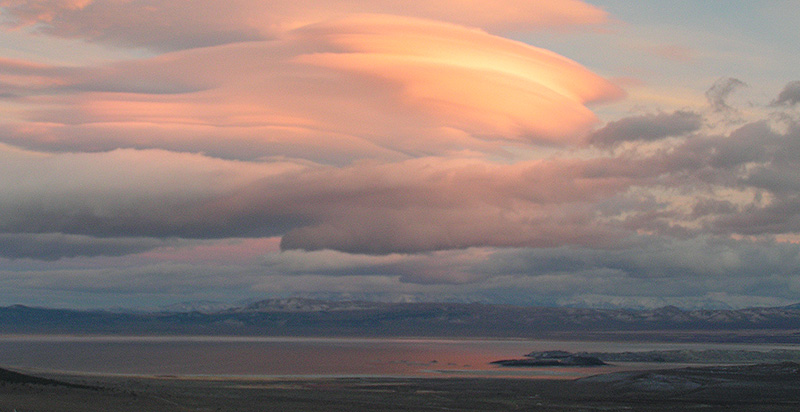 Although I allegedly spent countless hours on the back patio of the Mono Basin National Forest Scenic Area Visitor Center as a babe in arms, my first real memory of Mono Lake is from quite a few years later. Many students grow up going on school trips to museums or science centers but if you're a resident of the Eastern Sierra, your options are a bit different. Instead of heading to the MoMA or the Met, kids who grow up in Bishop take trips to Bodie State Historic Park, we learn to ski on Mammoth Mountain, and we get to explore Mono Lake. As eager third graders, we piled into a school bus and headed down the road, mostly excited because we got to miss half a day of school, ready to goof off at Mono Lake. Now, I won't pretend to remember all the details from this excursion as an eight-year-old. What I do remember is this: I felt special because I had been to Mono Lake before; my tour guide was so grown up and consequently super cool; and I wanted to go swimming.
Since this field trip, I have visited Mono Lake many times. My family always stopped at Old Marina when we made trips to Carson City or Reno. Mono Lake was a landmark on my drives to and from college. And every time I wound around Conway Summit, the lake took me by surprise. It still does. For some reason, no matter how much time I spend here, even when I see the lake every day, that view still gets me. It shocks me.
Maybe I never get used to it because it always looks a little different. Maybe it's a bright, clear summer day and the water is glassy and smooth. Or it's a typical windy afternoon and I can see the whitecaps from afar. Or during the Rim Fire when I made the turn and swore Lee Vining had disappeared in the smoke. Just recently, I got to view the lake from a new perspective. Despite the fact that I had been leading tours at South Tufa all summer, this perspective was different because it was in relation to a new batch of Bishop Elementary kids—I got to be that grown up, and hopefully super cool, tour guide.
As I, along with several other Mono Lake Committee staff, met the teachers and students, we broke into groups and began our tours. Now, I'm not positive how much this has changed over the years, but it seems that the current third graders sure knew a lot more about Mono Lake than I ever did at that age. Before my tours, I always ask for someone from the group to get us started with any Mono Lake fact they know. Anything at all will do. Usually I get a few responses about how salty the water is and some people mention the changing lake levels. But never have I received so much prior knowledge as from these kids. They practically gave my whole tour in the first two minutes we were together.
They raised their hands and shook them, eagerly wanting to be called on next. And as each new hand was picked more information flooded our little group. They knew how tufa formed, could explain the whole ecosystem, and had heard about Mono Lake's strange water! We could have packed up right then and there! But instead, we took our stroll down the path at South Tufa. We talked about the plants, got up close to tall tufa towers, they tasted the water and got to know the strange composition of it even better. Together, we made tufa, caught brine shrimp, and almost every single one of them ate a fly pupa.
While they were getting to explore Mono Lake, for the first time for most of them, I was reminded of how great this field trip was back when I was in their place. I remembered how this trip cemented Mono Lake as a place that I cared about. While I didn't grasp the entire political history at that young age, on a certain level I knew that this was a place that had been in danger and was now being protected. Clearly, I never forgot this message because here I am, working for the Mono Lake Committee. I'm more closely involved than I could have ever imagined being when I was a kid simply wondering why the islands were different colors. Now I've had the opportunity to tell young Bishop kids, like I once was, how important Mono Lake is. And who knows, maybe one day they'll take my place again and sit here at the intern desk reminiscing about their own collection of Mono Lake memories that have accumulated over the years.