The Mono Lake Committee has a celebrated tradition of honoring individuals who champion Mono Lake and advocate for the public trust with the Defender of the Trust Award. The California Supreme Court's definition of the public trust doctrine in its landmark 1983 Mono Lake decision goes: "The public trust is an affirmation of the duty of the state to protect the people's common heritage of streams, lakes, marshlands and tidelands…."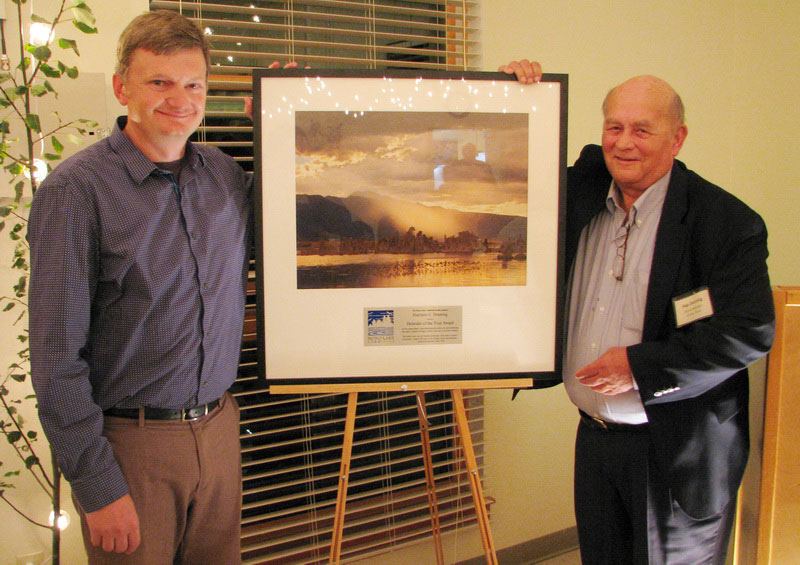 On September 27, 2014 the Committee honored Harrison "Hap" Dunning with the 2014 Defender of the Trust Award here in the Mono Basin. Hap accepted the award during a dinner in his honor. In Storm Over Mono, author John Hart wrote, "The notion that [the public trust doctrine] might be applied to curtail water rights was truly novel. There appears to have been just one other person in California in the mid-1970s who was aware of this possibility: Harrison C. Dunning, a law professor at the University of California at Davis…."
Since the 1970s, Hap has been a leading voice for California water law reform. In 1980 he organized a law conference on the public trust that would later prove incredibly influential in the California Supreme Court's 1983 public trust decision. That decision laid much of the groundwork for D1631, and the ongoing protection and restoration we see at Mono Lake today.
September 28, 2014 also marks the 20th anniversary of the 20th Anniversary of State Water Board Decision 1631, commonly known as the decision to save Mono Lake. Every two years on this important anniversary the Mono Lake Committee hosts the Defense Trust Weekend—a series of events around the Mono Basin for Defense Trust and Guardians of the Lake donors.

Click here to see more photos from the Defense Trust Weekend. 
Special thanks go to Randy Arnold and Barefoot Wine & Bubbly for hosting the wine tasting and silent auction fundraiser for the event.