This post was written by Lisa Cutting, 2002-2020 Eastern Sierra Policy Director, 2000-2001 Environmental Resource Coordinator, and 1999 Mono Lake Intern.
The expansive views from almost any vantage point in the Mono Basin tell a stark and undeniable story of four consecutive years of drought, above-average temperatures, and the combined effects on Mono Lake. For residents and regular visitors, the expanded exposed lakebed, growing landbridge, and dramatically changing topography of key visitation sites are hard to miss. While less immediately visible, the effects of the drought on the streams of the Mono Basin are no less severe.
Another grim year for Rush Creek
The Rush Creek watershed encompasses a complex water management system that is exacerbating the effects of the already-challenging drought. Water originating from the Sierra snowpack travels through a series of high-elevation reservoirs that collect and control the flows through Southern California Edison's (SCE) Rush Creek power plant. Water released from the plant makes its way into Grant Lake Reservoir, the Los Angeles Department of Water & Power's (DWP) storage basin for Rush and Lee Vining creek water, before it is diverted to Los Angeles.
DWP has already taken the maximum export for the year that is allowed when Mono Lake's elevation is between 6377 and 6380 feet above sea level. This, combined with drought conditions, has made Grant Lake Reservoir very low. In fact, it is so low that by the end of summer the reservoir is projected to reach the minimum allowable operating level—meaning that flows to Rush Creek will drop to match the inflow into Grant Lake Reservoir.
The effects on Rush Creek below Grant Lake Reservoir are two-fold. First, when Grant is low in the summer it acts like a pot on a stove set at a very low simmer. Cold, clear inflow from the high country enters and warms as it mingles with the stored water. By the time that water is released into lower Rush Creek the temperature will have increased 5–7 degrees Fahrenheit. The combination of warmer-than-natural water released from Grant, warm summer air temperatures, low water flow, and a lack of vegetation cover from a still-recovering forest system will keep that water at temperatures higher than in healthy, natural stream systems.
On top of that, a low Grant Lake Reservoir affects diurnal fluctuations in Rush Creek. In healthy streams diurnal fluctuations are natural daily changes in water temperature—heating during the day, cooling at night. In a normal system diurnal fluctuations are beneficial to trout, providing periods of feeding and growth. With Grant abnormally warm, scientists have documented wide swings in diurnal temperatures. With wider temperature swings, diurnal fluctuations cause additional stress to the trout instead of being beneficial.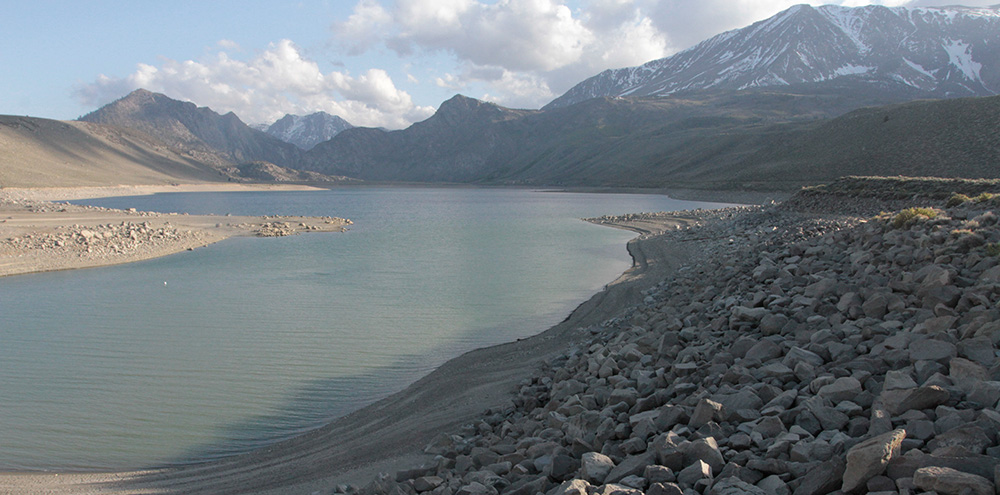 Temperature and trout
The trout below DWP's Mono Basin dams are not native but date back to the late 1800s and have had self-sustaining populations since flows were restored in the 1980s. The protection of trout under Fish & Game Code section 5937 factored significantly in the battle to save Mono Lake, and trout remain important indicators of the health of Mono's recovering streams. Every year State Water Board-appointed Stream Scientists conduct trout population surveys and evaluate the condition of individual fish within the population.
It is clear from the Stream Scientists' annual reports that increases in summer water temperatures during the ongoing drought have negatively affected the health of Rush Creek's trout.
The optimum water temperature for brown trout growth peaks at 57°F. At 67°F, growth stops completely. Warmer temperatures cause the trout to expend extra energy, which affects the condition factor of the fish. Condition factor—the ratio of length to weight—is used to evaluate the health of an individual trout.
Water temperature relates to levels of dissolved oxygen—the colder the water, the higher the dissolved oxygen level, and the easier it is for trout to breathe. Higher-temperature water, as is expected for Rush Creek this summer, has less dissolved oxygen, which will stress the trout.
Turbidity and trout
When Grant Lake Reservoir is low, it creates turbidity problems for Rush Creek. When the wind whips up, wave action picks up fine shoreline silt and mixes it into the water column. The typically-crystal-clear water becomes murky with suspended sediment before it is released down Rush Creek. The lower Grant is, the more opportunity there is for sediment to pass from the unvegetated and unconsolidated shoreline downstream to Rush Creek.
Elevated in-stream turbidity is detrimental in many ways—raising water temperature, lowering dissolved oxygen levels, preventing light from reaching aquatic plants, and harming fish gills, eggs, and aquatic invertebrates. We've seen turbidity issues associated with Grant Lake Reservoir before, not surprisingly when Grant was very low in late 2008 and early 2009. In this situation, the only way to address the problem is to have a higher minimum reservoir level so that the silty banks aren't exposed.
Riparian vegetation
Streamside vegetation is important for healthy stream systems. Trees and bushes shade the water, keeping it cooler in summer months. Insects—essential trout food—fall into the creeks from overhanging branches. Roots stabilize stream banks and prevent erosion.
The width of streamside forest corridors in bottomland areas is dependent on the trees' ability to access groundwater during dry years. Without enough water in the late summer, vegetation growth slows or even stops. If water becomes even more limited, trees cut off water to individual branches or die completely.
Already during this drought, some trees and understory vegetation have begun dying back, especially those far from the main channel along side channels that have dried up. It takes decades for large trees to grow, and this drought is a setback in the 25-year effort to restore the valley-wide riparian forest.
Slower restoration of streamside forests slows the restoration of the stream channels, and thus lengthens the time for the fishery to recover from the lingering impacts of decades of excessive water diversions. Trout recover last in restoring stream ecosystems because they depend on the health of all the other components combined.
Lee Vining Creek fares slightly better
Compared to Rush, Lee Vining Creek typically flows fast and cold due to its steeper gradient, fewer and smaller lakes and reservoirs upstream, and closer proximity to high-elevation snowpack.
In average runoff years, Lee Vining Creek's lowest late-summer flow is about 25 cubic feet per second (cfs), but this year, Lee Vining Creek could get as low as 6 cfs by the end of the summer. This low flow will be tough on trout.
Lee Vining Creek is better prepared to weather the drought because the streamside vegetation cover has recovered more and is more dense, which will help keep the water cooler as it moves downstream toward Mono Lake. It's only in the lower reaches of Lee Vining Creek that temperatures may warm significantly.
Parker and Walker
Parker and Walker creeks are tributaries to Rush Creek. They are also the smallest streams diverted by DWP in the Mono Basin—in a normal year they contribute about 40 cfs to Rush Creek in July and August.
However, this water is very important, especially in a year like this. The Parker and Walker confluence with Rush is well below the reservoir and the infusion of cold water helps offset warm temperatures caused by the very low Grant Lake Reservoir. In fact, the Mono Basin Stream Scientists specifically included all of Parker and Walker flows into their final recommendations for Rush Creek, citing the thermal contribution as a significant component to the health of lower Rush Creek.
Last year Parker and Walker hit peak flows of 39 cfs but got down to 5 cfs by the end of the summer. This year it's possible that Walker Creek will dry up before reaching Rush Creek. DWP does not plan to divert water from either of these two creeks.
A similar story for Mill Creek
Mono Lake's third-largest tributary, Mill Creek has many of the same complicating factors affecting its flow this summer. Lundy Lake Reservoir is already quite low and the quickly diminishing snowpack isn't expected to raise it significantly. SCE's power plant will be operating at near minimum levels to preserve the little water there is in Lundy as long as possible.
With a record low snowpack and a low Lundy Lake Reservoir level, conditions will be especially hard on the fish and streamside vegetation. Given the fact that Mill Creek has been struggling for many years now (see Summer 2012 Mono Lake Newsletter) this string of drought years will have an even greater impact on the already-stressed system. There is an outside chance that Mill Creek could dry up completely before reaching Mono Lake this summer.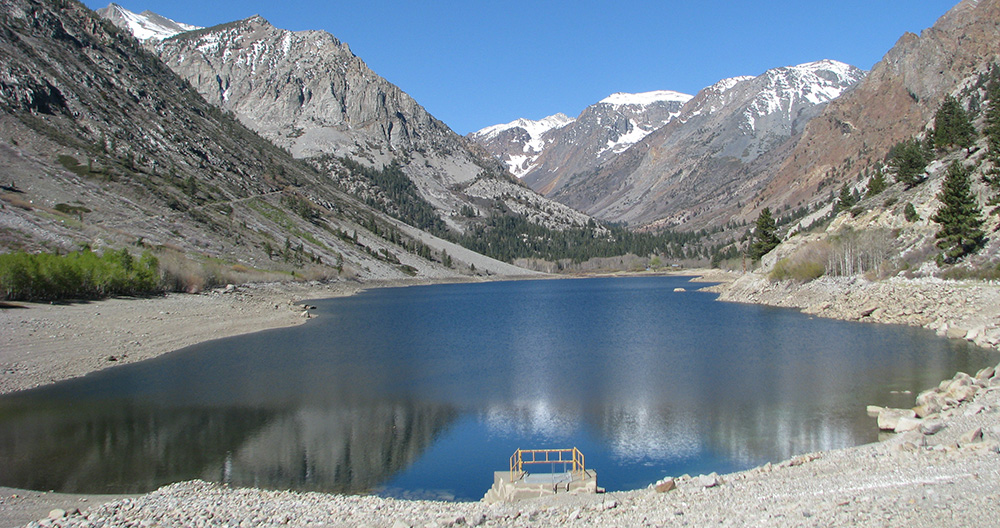 Summer of firsts
This will prove to be a summer of firsts in terms of recorded streamflows and conditions. As a result, the Mono Lake Committee has expanded our core monitoring program. This is a unique opportunity to collect data to help make the best decisions possible for the streams and the lake as well as to navigate different scenarios in the uncertain climate future.
This post was also published as an article in the Summer 2015 Mono Lake Newsletter.