This post was written by Carolyn Weddle, 2011 Project Specialist.
It's that time of year again, time for the Eared Grebe (Podiceps nigricollis) count at Mono Lake. Most visitors in the Mono Basin can easily say that they have seen a lot of birds at the County Park and Old Marina sites, but how many grebes are there exactly? That's where photographer Rick Kattelmann, volunteer Lighthawk pilot Geoff Pope, and researcher Sean Boyd come into the picture.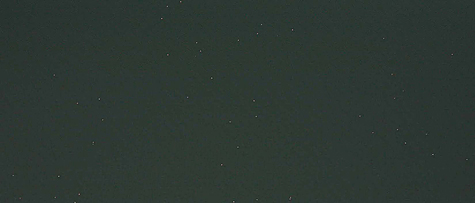 Since the mid-1990s aerial photographs have been taken of the lake surface. These surveys of the Eared Grebe populations are overseen by researcher Sean Boyd from the Pacific Wildlife Research Center. Boyd uses these photographs to count the tiny white specks (the grebes) in the photos and establish an overall abundance of grebes at Mono Lake. This year, on the morning of October 14, pilot Geoff Pope, along with photographer Rick Kattelmann, flew transects over Mono Lake taking photographs of the lake's surface at ten-second intervals.
And where might the Mono Lake Committee staff fit into this survey? In order to determine the scale in the photograph, myself along with Education Director Bartshe Miller and Office Director Rose Catron set out to the lakeshore at 7:45am on Friday morning to set up the scale markers. These markers are composed of two small wooden stakes with white plastic sheeting in between, two for each X marker. With a little trigonometry knowledge and teamwork we were able to form a triangle of X markers that were 50 meters apart next to the lakeshore. By 8:30am the markers were set and it was time for the pilot and photographer to take over.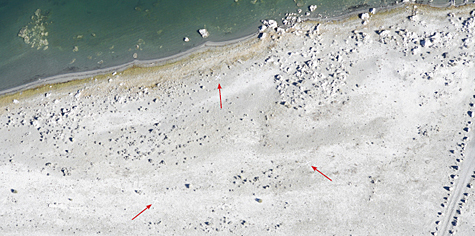 Why are the grebe counts important? These counts have shown that Mono Lake is a very important fall staging site for the Eared Grebe, according to Boyd and Joseph R. Jehl, Jr.'s 1998 report, Estimating the abundance of Eared Grebes (Podiceps nigricollis) on Mono Lake, California by aerial photography. The total counts in combination from surveys taken at the Great Salt Lake are used to approximate the Eared Grebe population for the North American continent.
Overall, the survey was a success this year. I am very excited to have been a part of such significant research. Check back in the next few weeks for the final results of the survey!