This week we received LADWP's forecast for Mono Lake levels for the 2009 Runoff Year (April 1, 2009-March 31, 2010). The lake is expected to be at its peak right now (the current elevation of Mono Lake is 6382.53 feet above sea level ), and fall about 1/2 foot by early September, and fall a total of about 1 foot by November. With an average winter it would be expected to then rise to 6382.1 by April 1, 2010. This would be a net drop for the Runoff Year of 0.3 feet. It dropped 1.8 feet in 2007, the second-driest year on record, and 0.9 feet in 2008, another dry year. This year is almost average, but a bit on the dry side, with 88% of average runoff forecasted, although a wet May and June have put us ahead of that figure.
Interestingly, if water had been released from Grant Lake Reservoir for an SRF (stream restoration flow) on Rush Creek, that water would raise Mono Lake by about 0.3 feet–canceling out the net drop expected for the year. Instead, the Water Board determined that SRFs were not required this year in order to keep Grant Lake Reservoir above 11,500 ac-ft of storage. This plan is working, and Grant is now at normal operating levels, holding over 30,000 ac-ft of water, up from only 6,000 ac-ft in February–and it is still rising about half a foot per day. This should keep water temperatures in Rush Creek cool and avoid feared fish kills this summer. The ongoing disagreement between the Water Board and the Committee over the release of a CMF (Channel Maintenance Flow) is still being discussed by our lawyers, but as a practical matter it is unlikely to be released this year due to the late date and ongoing construction on the Grant Lake Reservoir outlet. The Committee believes that this lower CMF that would use less water is still required when SRFs are not–that SRFs are a requirement in addition to CMFs. You can find links to Decision 1631 and Order 98-05 here and see for yourself what you think! That link also takes you to a real-time data page where you can see streamflows up to the minute!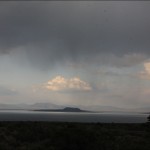 In Lee Vining we recorded 0.8 inches of precipitation in both May and June. This is our sixth-wettest May since 1989 and our fifth-wettest June–and the wettest June since 1998. We had 16 days of rain in June, a new record. The last time we had more than six days of rain in June was ten days in June 1997.
The first half of June was not only rainy, but it was cold. June 17th was the first day in June that hit 70 degrees, and the average June high is around 77.
Hot weather finally arrived by the end of the month, with temperatures mostly in the 80s since Friday. This caused maximum snowmelt at the higher elevations. Parker Creek, the watershed with the highest average elevation, reached 40 cfs (cubic feet per second of water flow) today and could still be rising.
Mill Creek's flow is unknown (Southern California Edison doesn't release preliminary data), however Lundy Lake Reservoir is spilling. Chances are it is peaking now or just past peak–it has the second-highest average watershed elevation–so it also tends to have later peaks than the other creeks.
All the other creeks peaked earlier as lower-elevation snow melted. Rush Creek peaked at 252 cfs on June 21st and is still over 200 cfs above Grant Lake Reservoir. Horsetail Falls above Silver Lake has been gushing since Gem Lake Reservoir filled earlier in the month.
Below Grant Lake Reservoir there was no peak flow released (see above), however below the confluence of Parker and Walker Creeks–right now contributing 50% of the flow–the highest Rush Creek got was 113 cfs on June 1st. It is still within 4 cfs of this peak, and with Parker Creek perhaps higher tomorrow, the Rush Creek Bottomlands could peak higher as well.
Lee Vining Creek peaked during rainy weather on June 1st, at 250 cfs. DWP diverted water from Lee Vining Creek during the peak, a prohibited act that has occurred in 5 of the last 11 years. Below the diversion dam, the creek's highest flow was 232 cfs on May 18th.
Walker Creek, the lowest-elevation watershed, peaked the earliest, at 26 cfs on May 21st.
With the wet spring and the late peak flows, the summer of 2009 should turn out to be a nearly average summer for runoff, and a better-than-average summer for plant growth and flowers–and mosquitos. And wait–add one more day of rain in June–as I write this, just before 11:30 am on the last day of June, it just started raining!