Andrea Mead Lawrence, alpine skiing Olympic double gold medalist, mother of five, visionary environmental leader, 16-year Mono County Supervisor, and advocate for Mono Lake's protection, passed away on March 30 at home in Mammoth Lakes with her family at her side. She was 76.
Andrea was an inspirational leader, a tireless champion of doing the right thing, and a gracious model of how to simply be a good person. Here at the Mono Lake Committee she was our sounding board, our conscience, and our friend. We will miss her enormously.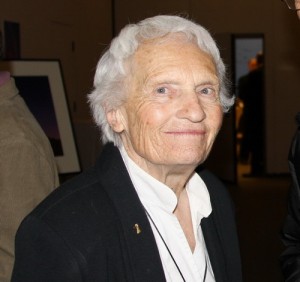 Andrea dedicated her life to preserving our shared public landscapes and values. After moving to Mammoth Lakes in 1968, she founded the Friends of Mammoth to challenge excessive development, leading to the landmark California Supreme Court decision broadening the reach of the state's Environmental Quality Act to all permitted projects.
As a Mono County Supervisor, Andrea promoted understanding of the fact that the economic vitality of the county is interwoven with the protection of its outstanding natural landscapes. She testified in support of Mono Lake protection, of the National Forest Scenic Area, of the Desert Protection Act. She spearheaded the protection of Bodie State Park and helped found the Sierra Nevada Alliance to tackle Sierra issues on a regional scale.
In 1976, David Gaines and the ecological research team that revealed the devastating impacts on Mono Lake of excessive water diversions to Los Angeles set up camp in the Mono Basin. Andrea joined them by the campfire. In 1979 she joined in the first Bucket Walk, carrying water from above the Lee Vining diversion dam to Mono Lake at a time when the creek was still dry. In subsequent years she advocated for Mono Lake's protection politically in many forums; she spoke for Mono County in favor of protection before Congress, the California Legislature, and the State Water Resources Control Board.
Upon retiring as a Supervisor in 1999 she joined the Mono Lake Committee Board of Directors. She brought to the Committee her firm determination that big victories, such as Olympic medals and the 1994 water rights protection of Mono Lake, are only the beginning. When you care about a landscape, she told us, when you are connected closely to a place, then your responsibility and duty to act are ongoing. Constant vigilance, she always reminded us, constantly applied.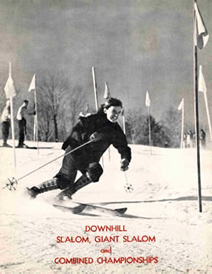 Through all of her involvements, Andrea had a guiding vision of how community, economy, and ecological integrity should be integrated in a way that preserves the vitality of each and enhances the whole.
She also had an unerring ability to clearly see how that balance could be struck—-and the fierce tenacity to fight to restore equilibrium in environmentally threatened places like Mono Lake, where the scales had tipped too far, for too long.
In 2002 Andrea was honored as the Greatest Winter Olympian of all time in recognition of her success in transforming herself from an outstanding athlete into an exceptional leader of the Eastern Sierra community and a champion for environmental protection.
Shortly afterward she founded the Andrea Lawrence Institute for Mountains and Rivers, a non-profit organization dedicated to her landscape vision of preserving healthy communities and healthy economies in the Eastern Sierra.
Andrea is world renowned for her Olympic skiing achievements, but it was her philosophy of life that made those gold medals shine so brightly. As she said, "Your life doesn't stop by winning medals. It's only the beginning. And if you have the true Olympic spirit, you have to put it back into the world in meaningful ways."
Andrea remembered on the web
New York Times: Andrea Mead Lawrence, Skiing Champion, Dies at 76
Los Angeles Times: Andrea Mead Lawrence dies at 76; Olympic Alpine skier became environmentalist
Sierra Wave: Andrea Mead Lawrence: The Environmental Conscience of the Eastern Sierra
Mammoth Times: Andrea Mead Lawrence, 1932–2009
Stowe Reporter: Olympic champion, environmentalist dies at 76
Vermont Public Radio: Olympian Andrea Mead Lawrence succumbs to cancer
Rutland Herald: Vermont ski legend Andrea Mead Lawrence dies of cancer
Top photo by Arya Degenhardt.