The Mono Basin and Eastern Sierra were hit by intense thunderstorms last weekend, especially on Saturday. Rainfall rates of up to seven inches per hour were recorded in the Sierra! Debris flows closed both Highway 395 and Highway 120 West for short periods of time—in Walker Canyon, Highway 395 was buried under five feet of mud in places. Rush Creek above Grant Lake Reservoir reached the highest flow so far this season, around 400 cubic feet per second (preliminary data) as rainfall combined with snowmelt from the still-extensive unmelted snowfields in the upper watershed to spill through the full reservoirs.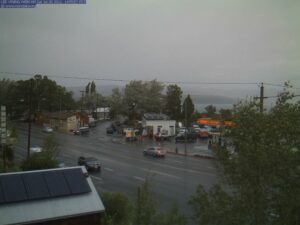 At the Mono Lake Committee Information Center & Bookstore in Lee Vining, we recorded 0.13 inches of rain on Friday, 0.22 inches Saturday, and 0.06 inches on Sunday. Even more rainfall was recorded at Cain Ranch—0.49 inches Friday, 0.47 inches Saturday, and 0.06 inches Sunday. Due to the way records are kept, Sunday's rainfall is recorded in August, bringing the July rainfall to about 0.40 inches for Lee Vining and 0.98 inches for Cain Ranch (both preliminary). This makes last month the wettest July at Cain Ranch since 1976—and only July 1965 was also wetter—making this the third-wettest July at Cain Ranch since records began in 1931.
June was also remarkably wet—1.04 inches of rain at Cain Ranch—the wettest June since 1998 and the ninth-wettest since records began in 1931. In Lee Vining, 0.92 inches of rain in June made it the wettest June since 1997 and the third-wettest since records began in 1989. The combined June–July 2011 rainfall at Cain Ranch of 2.02 inches is the wettest since 1977, when 2.61 inches fell. All this is on the heels of the second-snowiest winter season (through May) for Lee Vining (about a foot shy of 2005) since records began in 1990.
Mono Lake is still responding to all this rain and snowmelt. After a remarkable 0.7-foot rise in June, it rose another 0.6 feet in July to 6383.9 feet above sea level, for a two-month rise of 1.3 feet, the biggest two-month rise since 1.5 feet in June–July 2006. Most amazingly, it rose 0.12 feet over the weekend—a faster rate (0.04 feet per day) than it did during the peak flow during the first week in July (0.03 feet per day). This demonstrates the importance of rainfall directly on Mono Lake's surface—this weekend the combined inflow to Mono Lake from its two largest tributaries, Rush Creek and Lee Vining Creek, was only 69% of what it was during the peak flow period.
Mono Lake rarely rises in August, but thanks to the still-large unmelted snowpack and the still-high flows in the creeks—and perhaps a few thunderstorms—we could easily see the lake as high or higher on September 1st, something that hasn't happened since the wet periods 1998, 1995, and 1982–1983–1984.