This post was written by Lisa Cutting, 2002-2020 Eastern Sierra Policy Director, 2000-2001 Environmental Resource Coordinator, and 1999 Mono Lake Intern.
Starting yesterday, September 11, 2015, the Inyo National Forest has extended current fire restrictions to now include all wilderness areas of the Inyo National Forest.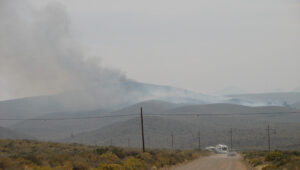 The Hoover, John Muir, Ansel Adams, Boundary Peak, White Mountains, Golden Trout, and South Sierra wilderness areas are no longer exempt from fire restrictions.
Effectively that means no campfires, barbeques, or stove fires outside of designated campgrounds. Extreme care should be exercised even in designated campgrounds since all vegetation is dry from drought conditions and a single mistake can accelerate into an uncontrollable situation very quickly.
As the Rough Fire to the southwest of Mono Lake and the Butte Fire to the northwest continue to burn and spread at alarming rates, this announcement comes as a relief.
In addition, the Tenaya Fire is burning in Yosemite National Park north of the valley rim and south of the Tioga Road. It is small—less than 500 acres—and is 25% contained so far. This very afternoon, we also noticed a plume of smoke rising over Conway Summit to the north of the Mono Basin, and I drove up to check it out—it appears to be a small wildfire near the junction of the Virginia Lakes Road and the Green Creek Road. Depending on wind direction, all these fires are contributing to poor air quality and reduced visibility in the Mono Basin.