This post was written by Erik Lyon, 2013 Project Specialist.
A couple weeks ago I received an email with a subject line reading like a classic Monty Python moment. But instead of the Knights Who Say "Ni!" demanding "A shrubbery!" it was Executive Director Geoff McQuilkin's subject line announcing: "A tamarisk!"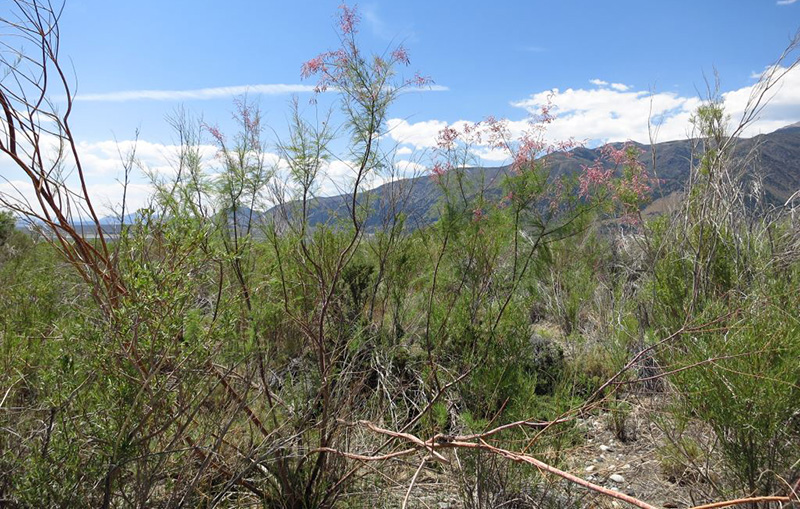 As you may have read in previous Mono-logue posts, the target of our restoration efforts this summer has been white sweet clover. Unfortunately, sweet clover goes to seed in early August, at which point removing it is only likely to spread the seeds further.
So, with a Restoration Field Trip coming up and no way to continue working on Mill Creek, we were scrambling for a new project. Then Geoff's email popped up, saying he had found a tamarisk in the Wilson diversion system, "begging for removal."
A single tree, begging for removal? It might not sound like an invasive scourge, but there is some history behind it. Tamarisk is an ornamental houseplant gone rogue. They were a popular import from Eurasia a century ago, and even planted to prevent erosion during the Dust Bowl. Only after their population exploded and began to outcompete native plant communities did we reclassify the plant from the benign "nonnative" to the more aggressive "invasive."
Once tamarisk established itself in the Mono Basin, it became the primary focus of restoration. "Back in the late 80s and early 90s we removed hundreds of tamarisks around the mouth of Wilson and Mill creeks. I'm just amazed that more of them never grew back," says Dave Marquart, Ranger for the Mono Lake Tufa State Natural Reserve. With their tenacious roots and ability to re-sprout from almost nothing, tamarisk is difficult to remove permanently.
The solution? "Eternal vigilance," says Greg Reis, Restoration & Information Specialist, "We thought we had them all in 2003, but ten years later they keep popping up."
When one does pop up, we have to jump on it. Greg, intern Max Henkels, and I led a group of restoration volunteers in search of this tamarisk. Armed with a shovel, weed wrench, and vague directions to the tamarisk, we picked our way down the Wilson diversion system looking for tamarisk's characteristic frilly tips. Finally Greg yelled, "Found it!" and we bushwhacked toward it.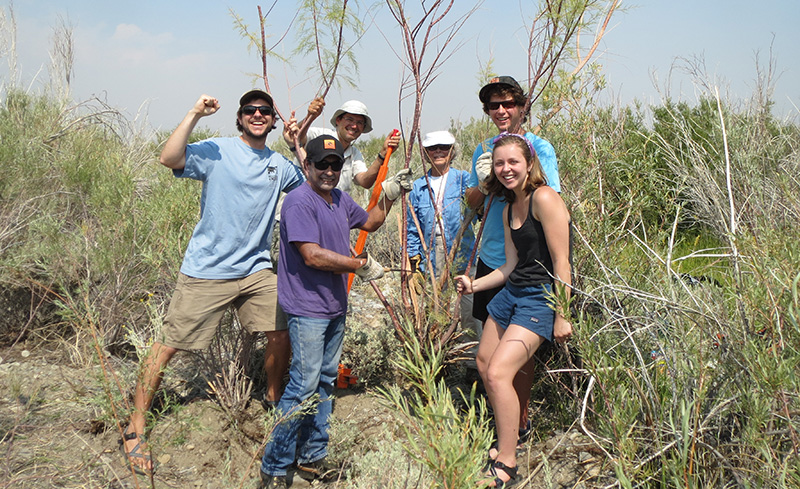 Removing a tamarisk is no easy task. After digging out the base of the tree, we found three major roots. We also found that two of these roots were too large for the sizeable weed wrench we brought. I made a quick trip back to the storage shed for the extra-large weed wrench—the Big Kahuna of weed wrenches—while the team continued to dig out the tamarisk and prepare it for removal.
When I returned, we started on the smallest of the three roots. Fitting the weed wrench's pit bull jaws around the root, we started to pull … and pull … and … SNAP! Here's another nefarious quality of the tamarisk: faced with certain death of being uprooted, a tamarisk root will break off, leaving enough below ground to re-sprout. It's like the lizard tail of the plant world. We dug more to expose the root, and pulled out as much as we could.
Moving on to the largest of the roots, it's the same process: pull, break, uncover, repeat. Finally, we had the whole tree out of the ground, and as much of the roots out—including the smaller offshoots—as we could manage.
For the time being, there are no more known tamarisks in the Mono Basin. It's hard to say if those tiny remnants, buried feet below the surface, will be able to grow into a tree once again. At least we know where it is with the pinpoint accuracy of GPS, and we have the one weapon that will keep tamarisk at bay: eternal vigilance.