This post was written by Adam Dalton, 2014 Mono Lake Intern.
With the fall collegiate semester fast approaching, the time is coming for me to bid an all-too-soon farewell to the astounding Mono Basin and State of California and head back to the rolling plains of Iowa.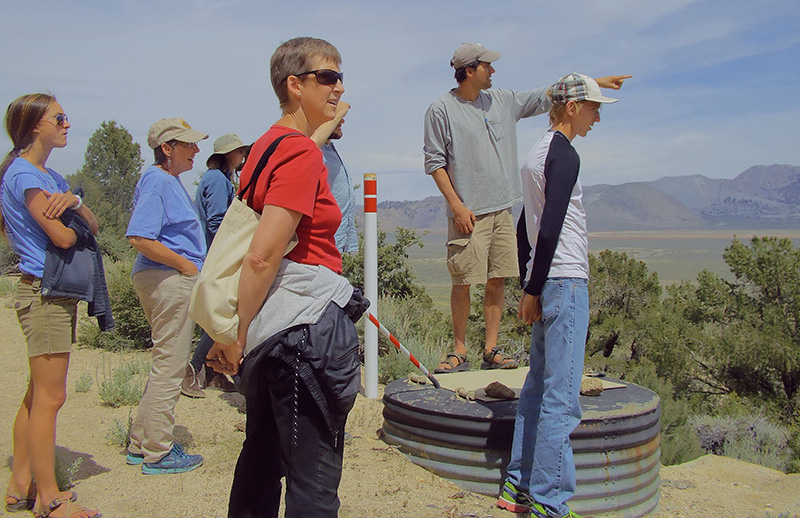 After completing my first Mono-logue post, which narrated the unlikely path I took to the Eastern Sierra, I intended to write a follow-up, which would tell of my adventures in California. However, I have been using the time I have had in the Golden State to the fullest and have had far too many adventures to make for a reasonable length Mono-logue post.
For example: I have hiked in Yosemite, attended USATF Track & Field Nationals in person, and watched fourth of July fireworks in Travertine hot springs (overlooking the Bridgeport Valley) with my friends. I have traveled to the Bay Area with both my family and the love of my life, seen the Pacific Ocean for the first time, and have even taken a whirlwind trip around the desert to see the Bristlecone Pine Forest, the Alabama Hills, the Rainbow Basin, the Mojave National Preserve, Amboy Crater, and Manzanar, among other sites.
Instead of recapping my summer as I had originally planned I will instead share the insights which I have gained from living, working, and recreating in the Mono Basin. To conclude, it has been a great summer and I know (with a great deal of certainty) that I will be back in the basin in some capacity in the future. Long Live Mono Lake!
California
I was incredibly naïve to think "I'm moving to California, of course I don't need to pack any warm clothes."
Water is an amazingly precious resource. I had a vague inkling of this concept before coming to California, but this summer made that concept very real.
Landscapes can vary. There's more to life than just rolling cornfields and bean fields.
California is much more dangerous than Iowa—the only highway warning signs I was familiar with in Iowa were deer crossing signs. In California I have seen many warning signs, some of which include: deer crossing, cattle crossing, elk crossing, wildlife crossing, falling rock danger, flooding, toxic dust warning, carbon dioxide sinkhole area, avalanche area, and even military bomb disposal area (to be fair, that last one was in Nevada).
Lee Vining
No bad flavor of Mono Cone malt exists. I've tried to find a bad flavor and have yet to succeed.
The Mobil is by far the most happening place in all of Mono County every Thursday and Sunday nights. It also serves as the entirety of Lee Vining's night life.
In 2014 General Delivery mail is a real thing … who would have thought?
Mono Lake
It is pronounced "Mow-no" Lake. If you say "Mah-no" Lake you will be mercilessly teased.
Speaking from experience, don't try to dive under Mono Lake. The water is too dense due to the salt; you will splash around and subsequently appear very goony.
Brine shrimp are prolific creatures and it is very apparent why. Every time I am on a South Tufa tour or a canoe tour there is, without fail, at least one pair of mating brine shrimp in my SOD (shrimp observation device = cup).
Mono Lake sunsets > all other sunsets.
Mono Lake Committee
Never underestimate the power of highly motivated individuals banding together to fight for a cause they believe in. The Committee serves as a prime example of such a phenomenon.
It is possible to be friends with your co-workers! I've never experienced such a tight-knit working environment as I have here.
If you do what you love you'll never end up "working" a day in your life. Many people here have such a passion for their work and it shows.
There is nowhere where "human nature is so weak as in a bookstore," said Henry Ward Beecher, and it's true.
Chautauqua is the "most American thing in America," as Teddy Roosevelt said, and it's also one of the most logistically-complicated events to organize in all of Mono County.

Ranger Dave Marquart, Erv, Erica, Adam, and Sandra prepare for the Mono Basin Bird Chautauqua back in June. Photo by Elin Ljung.
Living as an "adult" outside of college
It's probably best to do laundry on a regular basis as opposed to waiting until all of your clothes are dirty and you have to wash eight loads in one day….
Even though I'm not attending classes does not mean I am ceasing to learn. I learn (at minimum) a couple of new things everyday simply by experiencing new things and points of view.
Just because you are an "adult" doesn't mean you have to be constantly serious. Lighten up, don't take anything excessively seriously (including yourself), and life will be much more enjoyable.
Pie is most definitely an acceptable breakfast food.
While planning for the future is important, don't forget to take time and appreciate what is going on the moment. If you look to the future constantly you'll miss the beauty and fleeting nature of the present.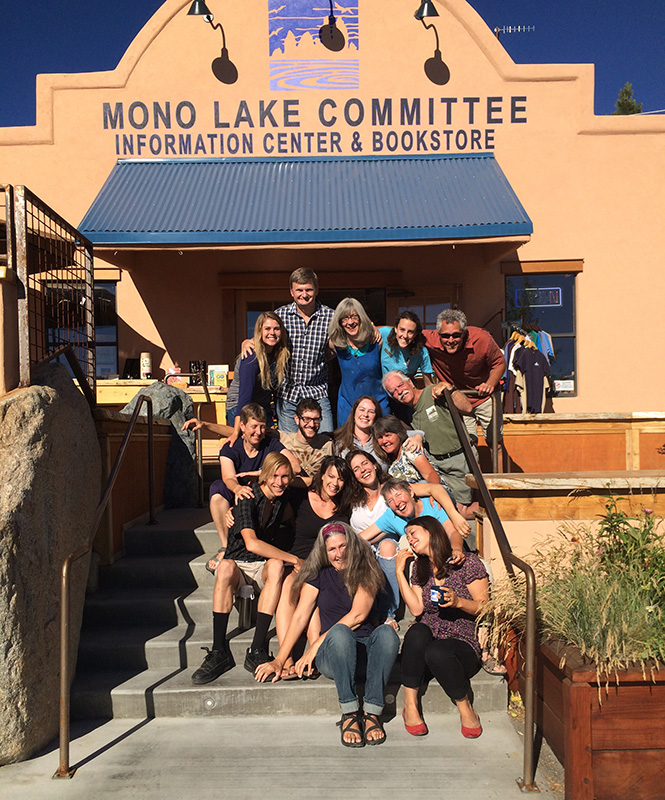 Random musings
There is nothing more terrifying on the road than a Cruise America RV.
In retrospect, bringing a two-wheel-drive, ½-inch-off-the-ground Toyota Celica to the Eastern Sierra may not have been the best idea.
When living in high elevation your three best friends are water, sunscreen, and chap-stick.
I do not have a right to complain about Iowa gas prices ever again.
Coffee is not an optional part of life in the Mono Basin, it is a necessity.
You must be daft if you are attempting to speed on Highway 395 in Mono County.
No matter how reasonable it seemed to me, it is simply not possible to run up a mountain (I've tried a few times).
Traveling more than seven hours to reach a location now seems like a breeze to me. For reference, that time period is equivalent to the travel time from my hometown of Mason City, Iowa to the Minnesota/Canada border.
I love the entire Eastern Sierra!