The Mono Basin monthly snowpack surveys are underway for 2015, with February's data in and March data being collected now. As many people might expect it's not looking great, but not all hope is lost.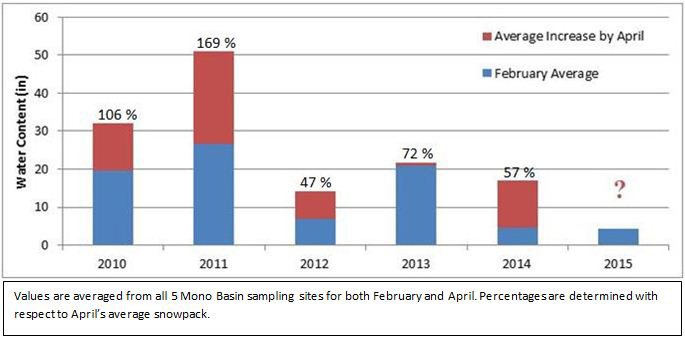 The Mono Basin snowpack is measured at five sites (Gem Pass, Gem Lake, Tioga Pass, Saddlebag Lake, and Ellery Lake), which are usually sampled in February, March, and April. The February 1st snow surveys found that the snowpack measured at those five locations amounted to 23% of average February snowpack in the Mono Basin, which is pretty close to last year's February survey (25% of average February snowpack in 2014). Luckily for us, an average amount of snow arrived after the February survey in 2014, which meant that we started the runoff year at 57% of April's average snow water equivalent (see chart above). Compare that to 2013 and we see much more snow by February with little additional snow by April.
So what will happen in 2015? It's still too early to tell; the March snow survey has already started and the data will be available in the next few days. The data already in from the Owens River Basin and from telemetered snow sensors in the Mono Basin indicate that the snowpack is holding steady at very low levels, and declining in some places. Storms early this week brought around three inches of snow to Lee Vining and more snow is projected before February ends, so that's something to be hopeful about.