In the Mono Basin, the 2022–2023 season made snowfall history in January—and February—and is poised to set new records again as March snowstorms pile more snow on top of an already-record snowpack. Highway 395 has been closed due to several avalanches north of Lee Vining along the west shore of Mono Lake, which also damaged power poles and rock-retaining fences.
Snow started accumulating in November. Warmer December storms reduced the snow depth in Lee Vining to only an inch at the end of December—but then the colder record-breaking snowstorms arrived. 91.8 inches of snow fell in January, mostly during the first part of the month and set a new all-time record for snowfall in any single month. The previous record was 68.4 inches of snowfall set in January 2008. Snow depth on the ground peaked at 51 inches on January 16th, only an inch away from the all-time record (weather records start in 1950) set at the Mono Inn on February 24, 1969.
The near-record snow depth in January was only at the lower elevations around Mono Lake. February 1st snow surveys in the high country did not find record snow depth but did find record snow water equivalent (SWE) for February 1st at Gem Lake (46 inches), second-highest on record for Gem Pass, Ellery Lake, and Saddlebag Lake, and third–highest for Tioga Pass.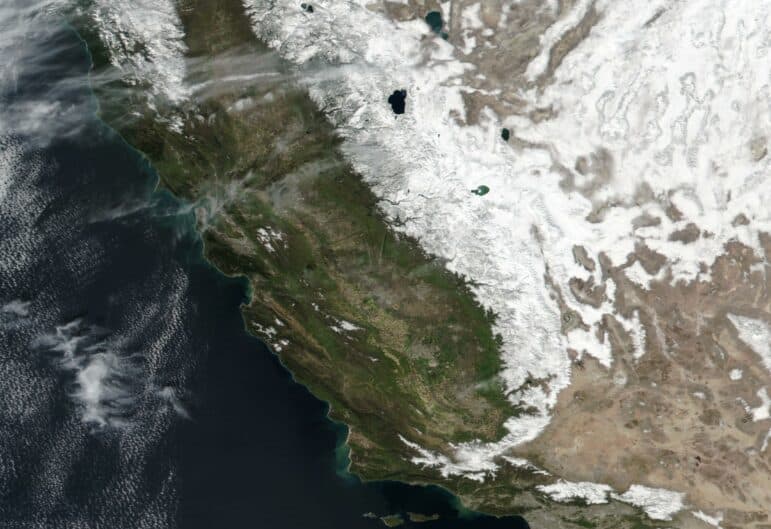 It seemed like the large storms were probably over—the largest storm between January 17 and February 21 was only a 9" snowstorm in early February. But with 51 days of freezing poconip fog between November 10 and February 21, the snow did not melt, although it compacted down to less than 3 feet deep as of February 21st. On March 3rd Mono Basin residents woke up to another day of beautiful but depressing fog, possibly a record-late occurrence (there has been no fog in March in the past 15 years).
Then the late February storms hit. Between February 22nd and the 26th another 52 inches of snow fell, and the snow depth finally broke the 1952 record, peaking at 67 inches on the ground in Lee Vining on February 26th. These numbers are approximate because the snow overwhelmed our weather instruments, which had to be found, dug out, and temporarily relocated farther away from shedding roofs. And it kept snowing—almost a foot and a half more fell in the next three days. Our monthly total as of the morning of February 28th was 73.6 inches of snowfall—a second-place all-time monthly record, only beaten by the previous month. There is still a record 64 inches of snow on the ground.

Our season total snowfall as of March 1st was already 201.1 inches, far surpassing Lee Vining's previous year-long record of 149.5 inches of snowfall during water year 2005, as well as the Mono Inn's 170.5 inches of snowfall in 1952 and 157.1 inches in 1969.
With more storms on the horizon, and winter storm warnings issued for this weekend, any March snowfall will only pad these records—as well as continue to make life difficult for the already-buried residents of Mono County and the workers trying to restore power and open roads. And as springtime warming soon begins to melt the truly epic low-elevation snowpack, that much-needed water will flow to Mono Lake.
Top photo, March 7, 2023, by Bartshe Miller.