WEATHER
One week ago our highs were still in the 50s and our lows were in the 20s. This very pleasant December weather ended abruptly as a winter storm dropped our first significant snow last weekend. It left our high temperatures in the 20s all week, with lows in the teens, and about 5″ of very light powdery snow in Lee Vining.
Yesterday an incoming cold front pushed out the morning poconip fog and allowed our highs to climb above freezing for the first time since Saturday December 13th. High winds overnight peaked at just 39 mph in town, but blowing and drifting snow is now a problem where previously an even blanket of snow lay.
The next winter storm is expected Monday December 22nd, with little precipitation east of Highway 395. That will be followed by unsettled and wetter weather during the rest of Christmas week.
CLIMATE
Since October 1st, our precipitation has been below average with the exception of a slightly above average November. October's mean temperature was 48F and November's was 40F. So far in December the mean temp has been 31F.
ROADS
Hwy 4 (Ebbett's Pass), 89 (Monitor Pass), and 120 over Tioga Pass finally closed for the winter. Yesterday most dirt roads on the floor of the Mono Basin were drivable with snow tires and careful maneuvering, however last night blowing and drifting snow could have made some roads impassable. Today Hwy 120 East to Benton is closed. The Bodie Road is still reported as open.
We just got our road information page up this week. During changing weather follow the links to Caltrans information–use our page's characterization only for the day it was updated and for a general summary of winter closures.
MONO LAKE
Tours, brine shrimp, and most birds are gone for the season, but with snow tires and careful driving you can still visit the lake and see the tufa towers and enjoy the quiet beauty and the few hardy birds that remain. The west shore has about 5″ of snow and the south shore has less, although this will change as more storms pass through our region early next week. See the live WebCam shot.
The Scenic Area Visitor Center is closed until April 1st, but the Mono Lake Committee Information Center and Bookstore in Lee Vining is open 9-5 daily with the exception of Dec 24 (open in the morning) and Dec 25-26 (closed).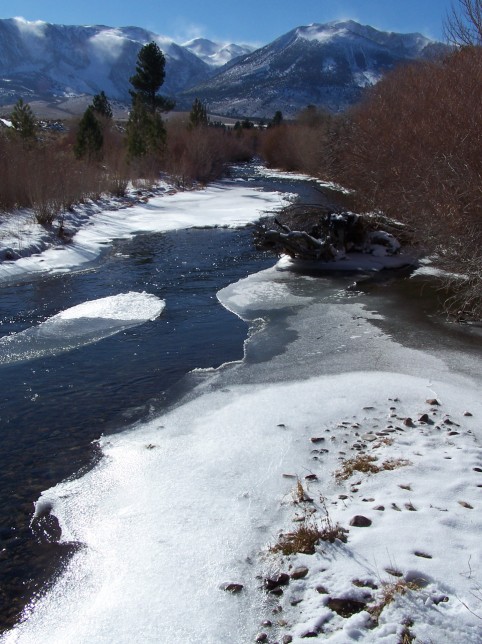 BIRDS
I've been seeing lots of Great Blue Herons in the creeks. Yesterday I saw ducks sunning themselves on creek ice, as well as a dipper, and a snipe-like shorebird that I caught out of the corner of my eye but couldn't identify (long bill!) on Rush Creek. In the Rush Creek bottomlands, Santiago and I saw a shrike in relentless pursuit of a tiny bushtit-sized bird that managed to evade the predator–for now. The Christmas bird count is this Saturday! Check our bird sightings page for more.
HIGH COUNTRY
This week's storms have dropped enough snow to make backcountry skiing a bit easier, but the Tuolumne Meadows Winter Rangers report that ski touring on Tioga Road is good but with no base there are lots of rocks and logs to avoid off the road. Yesterday's winds increased the avalanche danger and impressive snow banners were blowing off the peaks–check the avalanche report before leaving ski area boundaries. June Mountain Ski Area opens today! There is no recent ice climbing report but the cold temperatures over the last 6 days certainly improved conditions. Prior to last weekend's snowfall the ice skating was excellent on alpine lakes, but now lower elevation lakes that were unfrozen during the snowfall should be freezing.
ASTRONOMICAL EVENTS
Sunday December 21st at 4:04 AM PST is the Winter Solstice–the moment the Earth's north pole points directly away from the sun, resulting in the longest night and shortest days of the year in the Northern Hemisphere. It marks the beginning of winter, and also means our days will be getting longer! We are only a couple of weeks away from when Earth reaches perihelion, the closest it gets to the sun all year–so wear that sunscreen in January! We are one week away from a new moon–so enjoy the Mono Basin's treasured dark skies inbetween storms! See Spaceweather.com for news of other happenings in the Solar System.