WEATHER
The weather has been cool and brilliant since a few stormy days cleared around January 26th. Lows are around 20 and highs are around 50 F. Mid-day hikes in the sun can be done in a t-shirt–and there is plenty of snow-free hiking below 7,000′. Snow is expected to return Thursday through Saturday with more chances of stormy weather the following Tuesday.
ROADS
The storm a week and a half ago dropped some rain and finished with a dusting of snow. All the roads that were clear before are still clear, and shady areas still are holding about the same amount of snow. This means that most roads below 7,000′ are still snow-free. See our road information page for details.
MONO LAKE
The lake level is holding steady at 6382.1 feet above sea level. It would typically be rising this time of year, but precipitation in Lee Vining has only been about 40% of average so far this season. Unless we get a lot of precipitation soon, expect a dropping lake level in 2009.
There are no tours or brine shrimp this time of year, but the self-guided walk at South Tufa is still a must-see for first-time visitors and a great way to enjoy the gorgeous weather. The Scenic Area Visitor Center opens April 1st. The Mono Lake Committee Information Center and Bookstore is open daily 9-5.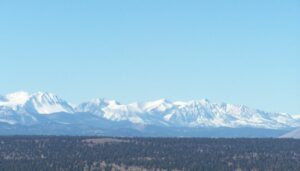 HIGH COUNTRY
The thin layer of light fluffy snow on a firm base has made the skiing excellent since the last storm–especially in shady areas. Southern California Edison has completed snow surveys near Tioga Pass and snow water content is about 50% of the April 1st average and 78% of the February 1st average. Although low, these numbers are the highest in the state! Conditions Reports: Ice Climbing / Avalanche / Tuolumne Mdws
ASTRONOMICAL EVENTS
Venus is visible in the daytime! The trick is to use the moon or another object to find it the night before so you know where to look the next day (but remember the moon is moving away from it so look a little farther away than you measured the night before). Comet Lulin has been visible before dawn in binoculars and will be brighter this month–around closest approach (February 24th) it will be visible to the unaided eye. See Spaceweather.com for more astronomical events.