As of late last week, Mono Lake's elevation was 6383.48 feet above sea level. It has risen 1.2 feet since April 1st, and 2 feet since its winter low point in December. It rose 0.3 feet just in the last week!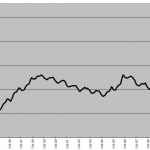 The 0.7-foot rise in June was the largest rise during a single calendar month since June 2006 and before that July 1995, and then three times in 1983: February, June, and December.
Mono Lake is now the highest it has been since September 2007. That year it dropped two feet during the second-driest year on record.
Mono Lake Tufa State Natural Reserve staff and volunteers are moving signs and boardwalk sections out of the way as the shoreline moves uphill. It is about a foot-and-a-half away from 6385.1, the high point it reached in 2006 and 1999 and the highest levels since 1972.