Today's Los Angeles Times article about the Mono Lake Kutzadika'a Tribe's efforts to gain Federal Recognition describes a new chapter in their long quest.
The Mono Lake Kutzadika'a Tribe has been actively seeking Federal Recognition since the mid-1970s, so far, without success. Kutzadika'a Tribal Chair Charlotte Lange says, "The Mono Lake Kutzadika'a Tribe has been enduring the process of recognition for decades. It saddens my heart to hear our elders say, 'I won't see it in my lifetime.' My grandfather fought for the tribe and his strength keeps my dedication to follow in his path." The Tribe remains persistent in pushing towards Federal Recognition, and their hard work has recently gained new traction, and setbacks.
In October 2019, members of the Kutzadika'a met with staff members of then Congressional Representative Paul Cook to discuss work already done for Federal Recognition. Representative Cook in September 2020 introduced bill H.R. 8208, "The Mono Lake Kutzadika'a Tribe Recognition Act" to Congress, calling for Tribal Recognition. The Mono Lake Committee wrote a letter in support of the Tribe and the bill, as did other groups in Mono County—showing widespread support of their efforts. Unfortunately, the bill expired when the 116th Congress ended in early January 2021. While the bill didn't come to fruition, the Kutzadika'a are not giving up.
The LA Times article by Louis Sahagún, a seasoned journalist who frequently covers topics related to the Eastern Sierra, sheds light on the current status of the Kutzadika'a Federal Recognition process. Sahagún recently traveled to Mono Lake to spend time with Chairperson Lange and other Tribe Members to understand what lies ahead for the Kutzadika'a as well as what hurdles remain in the way of their long-awaited success.
Newly elected Representative Jay Obernolte has replaced Cook in this district and has yet to reintroduce the bill to congress. President Biden's nomination of Deb Haaland, a congresswoman from New Mexico, to lead the Interior Department, has garnered optimism.
The Mono Lake Committee continues to support the Federal Recognition of the Mono Lake Kutzadika'a Tribe. Theirs were the first voices of the Mono Basin and they are still very much here to protect this special place. The Kutzadika'a and the Committee continue to work together towards common goals of the protecting and restoring the Mono Basin and educating people about Mono Lake.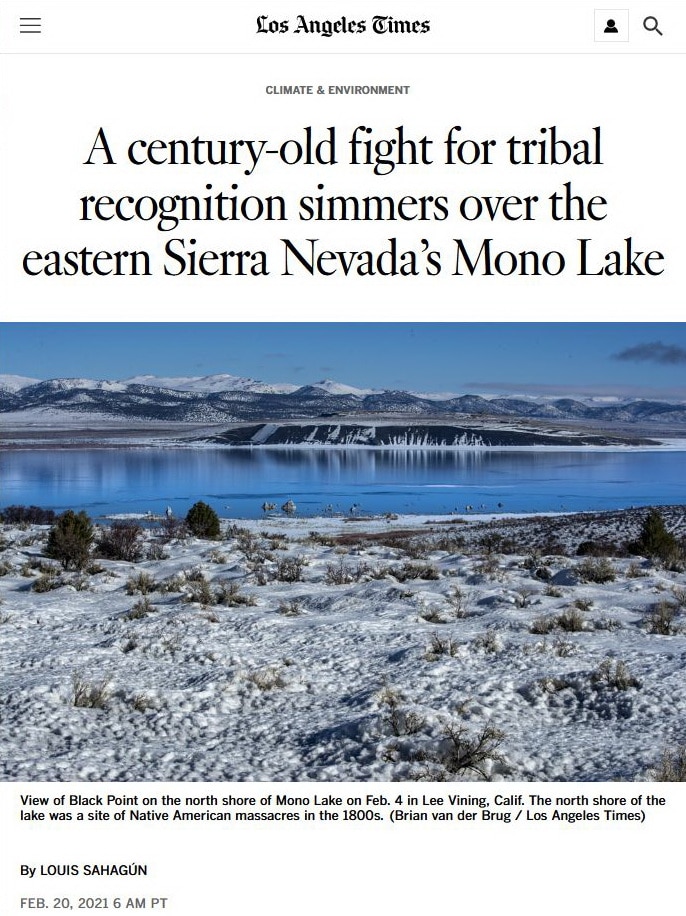 Top photo by Nora Livingston.