January was an extremely dry month in the Mono Basin—almost. Mono Lake was at the bulls-eye of a January 30 snowstorm that dropped 3/4-inch of precipitation at Cain Ranch, and 9 inches of snow containing 1.35 inches of water in Lee Vining (about 50% of our January average).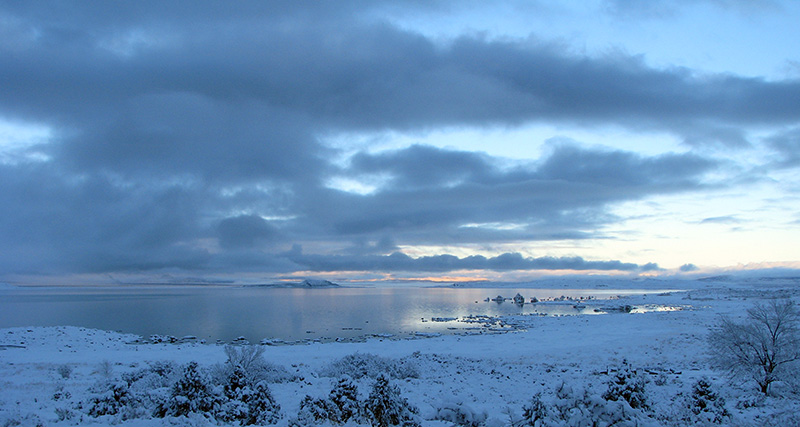 This was our biggest storm—and our biggest monthly precipitation total—since December 2012, over a year ago! Prior to that month, it was January 2012—two years ago—that you have to go back to if you want to find a bigger monthly total. To illustrate how remarkable that is, usually there are four months each year that are wetter than January 2014 was, but we have only been getting one each year in each of the last 3 years. As we near the end of the runoff year (April 1–March 31), the total precipitation for the last 3 runoff years (since April 1, 2011) of 21.44 inches is less than 50% of what would have fallen if each had been average. That is persistent dryness.
Gem Pass, surprisingly, only picked up about the same new snow water content as Lee Vining during last week's storm. More in line with the Lee Vining storm total, and the expectation for higher amounts at higher elevations, snowstorms dumped 3.5 inches of water on Dana Meadows in Yosemite between January 29 and February 3. The Mono Lake Dust Cam even shows snow coverage on the northeast side of the lake—possibly enough to ski on—however, the part of the storm cold enough to drop snow missed Long Valley. According to 1/31 NASA satellite photos, that higher valley to the south remains snow-free. The Mono Basin was lucky!
Mono Lake, like a giant rain and snow gauge, unexpectedly rose 0.16 feet (1.9 inches) in January to 6380.55 feet above sea level, partially thanks to the storm. Mono Lake would typically be rising even during a dry winter, however in a year like last year, a 0.2-foot rise was the total rise from January through March. In the winter of 2002 it only rose 0.1 feet.
Unfortunately, the storms in the last week only bring Lee Vining up to about 37% of average precipitation (to date since October 1). Although the 2.7 inches of precipitation recorded in town now makes 2014 only the second-driest water year on record after 1.84 inches in 1991,  is still only 20% of the annual average for the water year.
Snow surveys in nearby watersheds before the storm were finding only about 10% of average water content in the Sierra snowpack. Snow surveys following the storm haven't been reported yet, but the automated snow pillows (Dana Meadows and Gem Pass mentioned above) indicate very localized areas of heavy snowfall. Next week we should see the February runoff forecast for the Mono Basin, and it is likely to be one of the lowest ever.