This post was written by Erica Tucker, 2013 Project Specialist.
It's a sunny morning as I park by Old Marina and strap on my skis. Do I have my binoculars around my neck? Check. Pen and paper in pocket? Check. Dog treats for my housemate's puppy, who is ready to go? Check. We're off on my weekly assignment to monitor Mono Lake's level.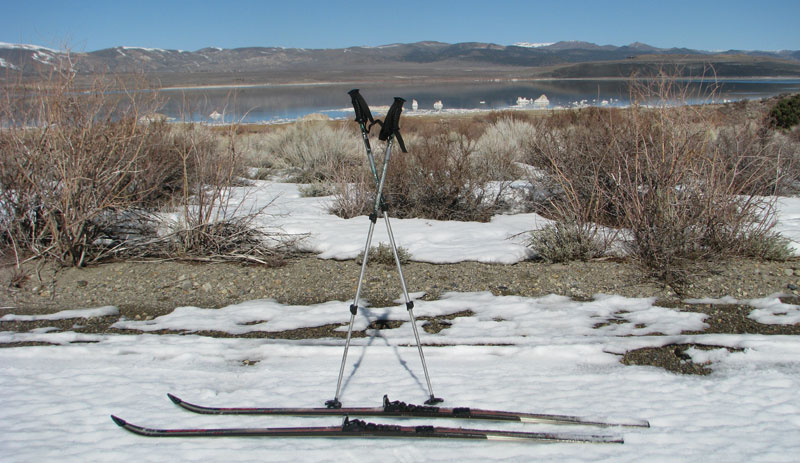 This task was a quick one in the autumn—just a look at the gauge at Old Marina and then a quick drive southeast to the old DWP dock to check the second gauge. Once we got snow in December, though, this job became a wonderful weekly adventure. Breaking trail through two feet of fresh powder after Christmas took me three hours round-trip to get to the DWP dock, and the exhausted puppy walked on the back of my skis the whole way back.
My responsibility at the lake shore is straightforward. Look at the water level gauge through my binoculars and record the number to the nearest 1/100th of a foot. If wind is stirring the lake surface, though, the numbers are tricky to read, plus the sloshing up and down, up and down, is a bit nauseating. Once back at the office, I will add my data to the measurements the Mono Lake Committee has collected since 1979.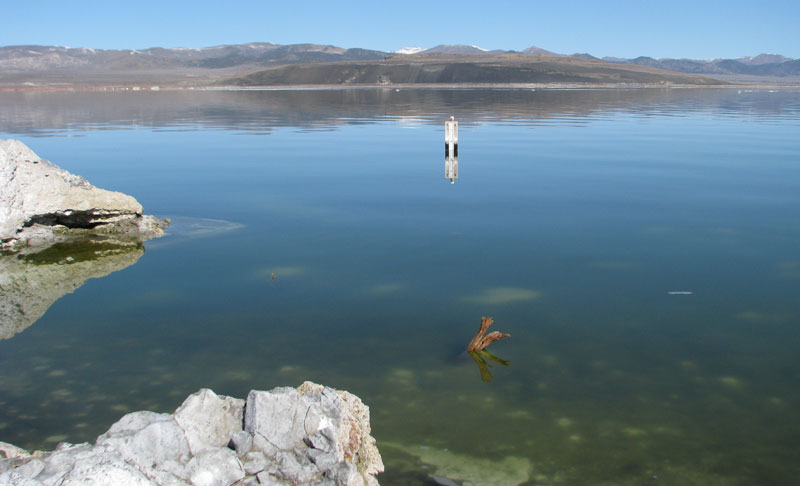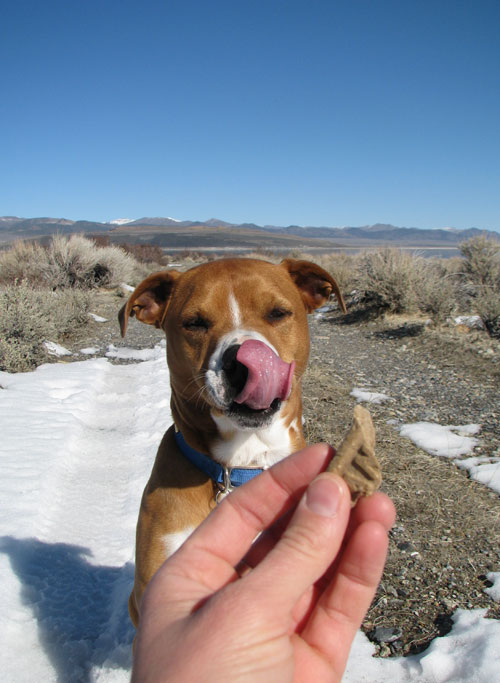 The four-mile round-trip ski is always beautiful. For several weeks I skied under poconip fog, on a crunch of fresh ice crystals. I've watched bushtits and chickadees in the sagebrush, and ducks and grebes on the chilly lake. Once I saw a white flash with a black tail tip race across my trail—a weasel in its winter coat! Today I saw a kangaroo rat, distinguished by the fat tip of its tail. What surprises will I see in the next weeks and months?
Today may have been my final ski to Mono Lake this season, as our snowpack has consolidated and the gravel road is melting its snowy armor. There's still too much snow to drive, though, unless you want to risk getting stuck in the mud, so next week I will pull on hiking boots, grab the binoculars, and, of course, load up my pocket with dog treats for my trek to the DWP dock's lake level gauge.