In December 2011, a staff member at the Los Angeles Department of Water & Power (DWP) wrote to the State Water Board and recommended that the ongoing scientific monitoring of the ecological health of Mono Lake be discontinued.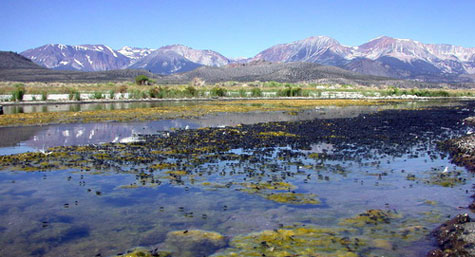 Here at the Mono Lake Committee we were, in a word, shocked. Not only is the program a condition of DWP's water export licenses, it is also a part of a signed legal settlement reached between the Committee, DWP, and other parties over a decade ago. Most importantly, monitoring of the lake is the essential scientific tool for measuring the ecological health of Mono Lake and its recovery from decades of excessive water diversions.
In a strange twist, the DWP staff member who wrote the letter is the same person who is charged with assuring that the State Water Board's requirements are met. His letter, sent on his own letterhead, instead asks that the requirements be eliminated. There's one more twist: DWP itself did not officially comment on the request, leaving us to wonder if they will stand behind their commitment, and exactly what strategy is at play.
The Committee has responded swiftly and forcefully to the State Water Board to defend the monitoring program, but this unexpected conflict is not yet resolved and is now receiving substantial attention from Committee staff.
No basis in science
There is no sound scientific basis underlying DWP's staff request. The essential concept put forth by DWP staff is that Mono Lake is fine, it has always been fine, and it will continue to be fine, so why spend the money to actually study the lake's ecological health in the real world?
This attitude is like assuming that you'll be healthy forever because your last doctor's visit went well. It's just not logical.
Experts on salt lake systems, including the very specialists who conduct the Mono Lake monitoring work, have reviewed the DWP staff proposal and found it to lack scientific merit. In letters to the State Water Board they detail a variety of specific issues and make the global point that "ecological systems, such as lakes, respond to multiple environmental factors in complex ways, and it is well known among ecologists that abrupt changes can occur … we depend on regular measurements to assess [Mono Lake's] condition."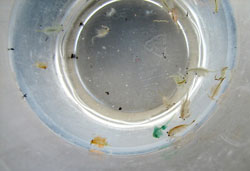 Additionally, the lake has not been at the required long-term management level set by the State Water Board since 1963. A half-century ago little attention was being paid to Mono Lake, and there were no teams of scientists documenting the lake's salinity, the health of the brine shrimp population, or other important indicators of ecological conditions. The lake is rising into ecologically uncharted territory, and to have it do so without taking a measure of its health just doesn't make sense.
A deal is a deal
The lake monitoring program is part of a package of restoration and monitoring requirements set forth by the State Water Board in 1998. In part these requirements came from a legal settlement agreement between DWP, the Mono Lake Committee, and other key parties. That agreement—signed by all—specified that "[DWP will] continue its limnological monitoring plan from the present until ten years after Mono Lake reach[es] its transition level of 6392 feet."
That means two things. First, DWP committed to conducting the program. And second, the program represents a compromise, resulting from negotiations in which other valuable monitoring programs were set aside. Abandonment of the agreed-upon outcome reopens a much larger conversation about lake chemistry, brine shrimp monitoring, migratory bird surveys, alkali fly populations, and other studies that measure achievement of the ecological health goals set by the State Water Board.
Next steps
The Committee's position is quite simple: since there is no scientific or legal basis for a change, DWP should continue to conduct the monitoring program without interruption.
This issue comes at a time when we are productively engaged in historic negotiations to find win-win ways to achieve restoration and aqueduct management mandates. Given the progress underway there, we are hopeful this issue can be resolved quickly.
You can read documents related to this issue here, and stay tuned to hear what happens next.