This post was written by Julia Frankenbach, 2013 Project Specialist.
The Mono Basin received its first real snow of the season on the 9th of October as the fall colors were at their peak. Eager to get out in the first snow, I took a two-hour lunch break to hike up to Parker Lake through the snowfall and to snap these shots.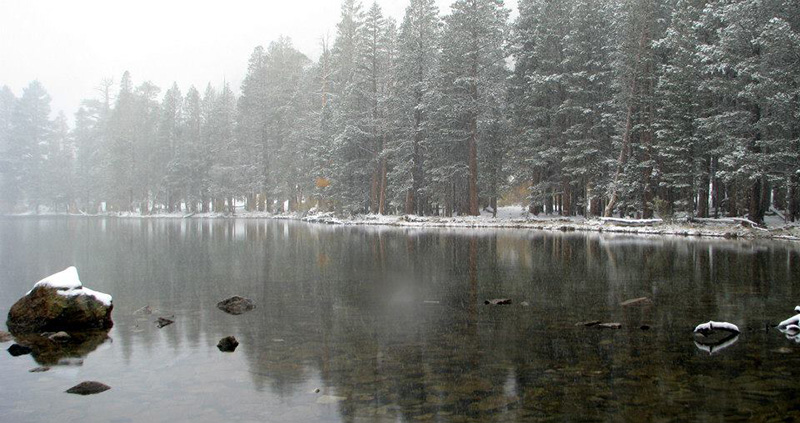 The bright orange aspens gave the newly whitened landscape a surreal glow. Beginning about a mile from the Parker Lake Road turnoff from Highway 158, the Parker Lake trail winds about two miles upward through sagebrush and small meadows. It follows Parker Creek through groves of aspens and Jeffrey pine stands, ending up at the eastern shore of Parker Lake.
While the aspens at the elevation of Parker Lake and the trail are now bare, fall color continues to light up the Mono Basin's lower elevations. Cottonwoods, willows, and aspens along the lower stretches of Rush, Lee Vining, and Mill creeks are beautiful right now. The town of Lee Vining boasts some of the most brilliant color around as well, with golden poplars, yellow cottonwoods, orange ornamentals, and red apple leaves glowing in the autumn sunshine.
This year, the fall color has gone on and on! Make sure you find the time to visit before the snow flies to see these showy colors. Enjoy the photographs, take some of your own, and stay warm! Winter is on its way.