This spring ushered another new batch of freshly trained participants into the ranks of the Mono Lake Volunteers. The Mono Basin community has long recognized the program's essential work welcoming and educating visitors to this unique and beautiful area. This year, the nation took note.
Earlier this year, Inyo National Forest staff recommended the Mono Lake Volunteer Program to receive the President's Gold Volunteer Service Award for service in Fiscal Year 2022. Assistant District Recreation Officer Eric Rios-Bretado completed the behind-the-scenes work to submit the nomination application, and on June 4, 2023, with sweeping views of Mono Lake in the background, the program celebrated its 20th year and received this honor, the highest award in the nation for volunteer organizations.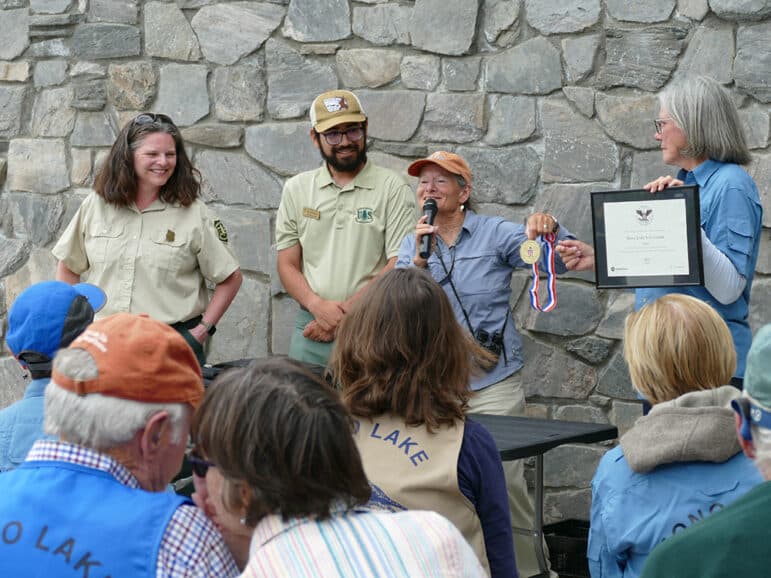 In 2003, the Mono Lake Committee secured grant funding and hired newly retired State Park Ranger Janet Carle to start the program. From that first class of ten volunteers, the program has grown to nearly 100 dedicated volunteers. In 2016, Karen Gardner took over volunteer coordination, and Janet became the Training Coordinator. Over the years, funding support has expanded to include the Eastern Sierra Interpretive Association, California State Parks, and the Bodie Foundation in addition to the Inyo National Forest and Mono Lake Committee. The Mono Lake Volunteers exemplify the spirit of collaboration as they work on special projects with the Mono Lake Committee and on lands managed by California State Parks and the Inyo National Forest.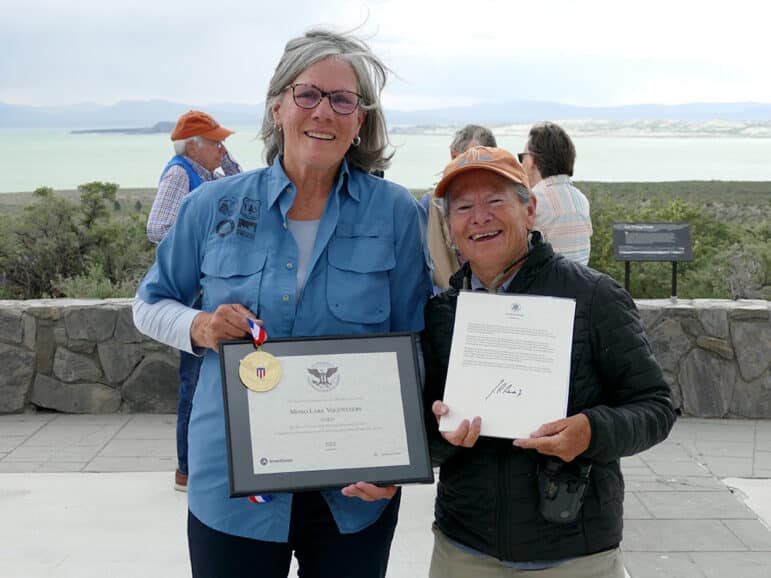 Volunteers hail from the Mono Basin, from Bishop to Reno, from the Bay Area to Southern California, and some are from even further afield. Karen cites the enthusiasm and devotion of the volunteers, and Janet points out volunteers can specialize in their favorite tasks, noting, "There is something for everyone—from pulling invasive plants, to trail maintenance, to roving interpreter, to leading guided tours, to working with school groups, to stuffing mailing envelopes." Great refreshments are provided throughout training and graduation, and veteran volunteers help with that too. In this robust program, volunteer retention is high. Impressively, five out of ten members of that first class are still active volunteers twenty years later. Prospective volunteers can learn more on the volunteer web page.
President Joe Biden's signed letter (see below) was read aloud during the graduation event by Mono Lake District Ranger Stephanie Heller, and Janet and Karen received the gold medal and framed certificate honoring the program. The certificate and medal will be displayed in the Mono Basin Scenic Area Visitor Center as a symbol of what President Biden recognized as the willingness to "step up and volunteer in service of community and country…" 
Providing outreach and education, a focus of the Mono Lake Committee since the 1970s, leads to understanding, appreciation, and protection of the area. The partnerships that have forged the Mono Lake Volunteer Program equip its volunteers to connect with visitors to the Mono Basin in effective and rewarding ways. That's a program that is worthy of high honor in a place that is worthy of great protection.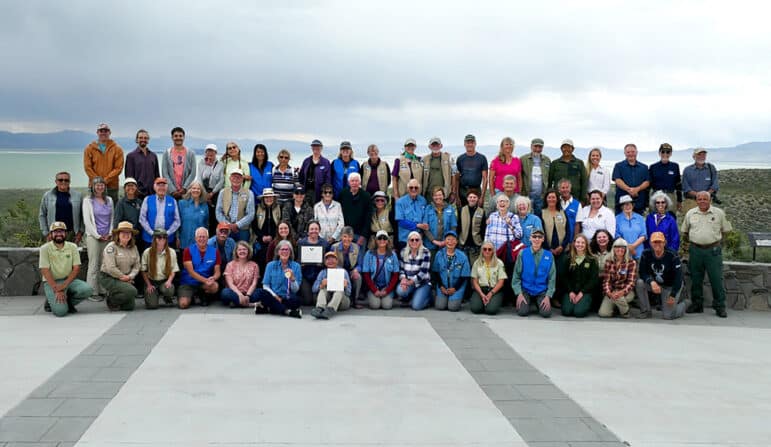 The White House, Washington, DC

The American story depends not on any one of us, not on some of us, but on all of us. I congratulate you on taking it upon yourself to contribute to the public good, and I'm proud to present you with the President's Gold Volunteer Service award in recognition of your 943 hour of service to this great Nation.

Throughout our country's history, the American story has been strengthened by those who combine an optimism about what can be with the resilience to turn that vision into reality. I know I'm not alone in recognizing that those who are willing to step up and volunteer in service of community and country are essential to the ongoing work of forming our more perfect union.

By sharing your time and passion, you are helping discover and deliver solutions to the challenges we face—solutions we need now more than ever. We are living in a moment that calls for hope and light and love. Hope for our futures, light to see our way forward, and love for one another. Through your service, you are providing all three.

On behalf of the American people, I extend my heartfelt appreciation to you for your volunteer leadership, and I encourage you to continue to answer the call to serve. The country is counting on you.

President Joseph R. Biden Jr.
Top photo by Elin Ljung.