Today, January 3, the Department of Water Resources will finish conducting the season's first snow surveys in the Feather, Yuba, American, and San Joaquin river basins. Talk of how dry things have been in California seems to be everywhere you turn.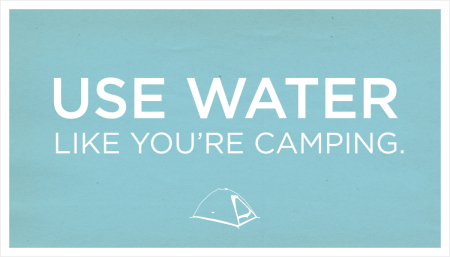 Here at the Mono Lake Committee we are, of course, fans of water awareness and water conservation practices. We're also big fans of data and information. Greg Reis is the Mono Lake Committee's Information & Restoration Specialist, which means he tracks the weather and water data in the Mono Basin. When I asked him for some perspective on what it all means for Mono Lake, he gave me this great response:
Last winter, the big storms just stopped coming about a week before the new year, and a year later we are still waiting for them to return. This has made the 2013 calendar year the third-driest year since 1932 measured at Cain Ranch, with only 3.5 inches of precipitation. The annual average is about 10.5 inches.
Since Lee Vining is situated closer to the wetter Sierra Nevada, it recorded about 5 inches of precipitation in 2013. This is the driest calendar year recorded here since 1989, as it also has been in many parts of the state.
Interestingly, the wettest month was July. It was our wettest April–September period since 2006, with 3.5 inches of precipitation (132% of average) during the warmer months. The cause of the dry weather is a persistent weather pattern you can read about on weather blogs; however, this pattern didn't stop the summer thunderstorms, and it is also allowing the Mono Basin to benefit from cold and dry "inside slider" storms that are coming out of the north and missing much of the rest of the state. This (as well as lake-effect snow) kept December snowfall in Lee Vining close to average, but with only 25% of average water content.
Up at Gem Pass in the Rush Creek headwaters, the lack of Pacific storms means just 1.35 inches of water content is sitting on the snow pillow—the lowest amount since 2000, when the winter storms waited until mid-January to start and were done by mid-March. Fortunately, despite only two months of precipitation, that season ended up close to average.
Due to the last two dry years, Mono Lake dropped to about the same level it was in fall 2004. Right now Mono Lake is hovering around 6380.4 feet above sea level, and is likely to stay steady (if it is dry) or rise the rest of the winter and spring. If the rest of this winter stays dry, Mono Lake will fall during the summer without much snowmelt runoff. This could trigger a cutback in water export in 2015 at the earliest, since the April 1stlevel (used to determine each year's export) will remain above 6380 feet this year.
Precipitation is typically measured over a water year (October–September) in order to lump one winter season together across calendar years. So far this season, we have only recorded 1.3 inches of precipitation in Lee Vining. The annual average is 13.8 inches. The NOAA Climate Prediction Center indicates likely below-average precipitation for the rest of this month in the Sierra. The current dry stretch is unprecedented and is likely to continue, which is why our efforts to conserve and recycle water and reduce climate-changing greenhouse gas emissions are more important than ever. And those water-saving efforts are paying off with real-world benefits—the record-high reservoir levels we are seeing now would have been unthinkable if this dry spell had happened three decades ago.
So, we are tracking the weather and snowpack closely, as we always do. It is hard to see the lake level drop, but it is important to remember that we have worked hard to make sure that there are provisions in place that help protect the ecosystem and the gains we've made on the path towards the management lake level of 6392.
There are new and innovative ways to conserve water on a personal level, and some cutting edge government water conservation programs out there that help encourage us all to work together on water conservation.
So, as we, well, for lack of a better pun, weather this drought storm, we will keep you posted on what it means for Mono Lake as well as some of the innovative and inspiring water conservation practices out there so you can help stretch the water we do have for all of your favorite places.